COD Baseball Triumphs Over Panthers with Two Wins
The COD Baseball team passed 20 wins with a dominant performance in their doubleheader against the Panthers.
After losing two straight games against Joliet Junior College, the College of DuPage baseball team came out with something to prove against Olive-Harvey College Tuesday afternoon. With a powerful offense in the first game and a dominant pitching performance in the second game, the Chaparrals swept the Panthers. They won 11-10 in the first game and 4-0 in the second, raising their record to 21-9.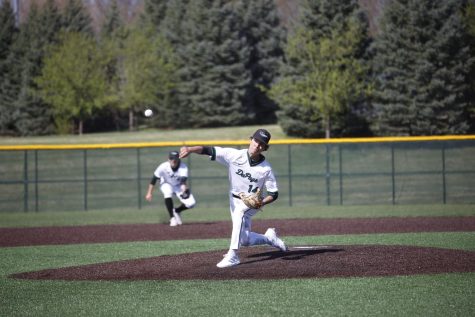 "Getting out here and playing again was good for the boys," head baseball coach Bobby Wilson said. "Losing two [games] to Joliet took the wind out of our sails. We came back; we bounced back today and got two [wins.] That put us back in the win column."
Freshman pitcher Jake Spotafora made his first start of the season, pitching through the second game. He threw five strikeouts, two walks and allowed five hits but shut out the Panthers. Spotafora gets in his zone before pitching by tossing a Nerf Football around.
"I think I threw about 100 tosses of my orange football before the game," he said. "I just focus on the batter. I make every pitch count and put every pitch where I want it. Most of the time, where I want to put it, they can't hit it."
Sophomore infielder David Marshall recorded two hits and walked once in four at-bats through the two games. He also scored four runs, adding his fourth home run on the season in the first game, and he collected one RBI.
"I've never experienced this many homers," Marshall said. "I don't think I've ever hit a ball hard to right field. It was cool. It was a good feeling, a good barrel. We're going to keep this same mentality for [the rest of] our games."
Freshman infielder Shane Baumgarten recorded one hit and struck out once in three at-bats through the first game. He also scored one run, adding his first home run of the season and collected one RBI.
"It felt good off the bat," Baumgarten said. "It was nice to contribute in that sense. It was good to get the ball rolling with that first run, and we kept going after that."
Sophomore infielder Joe Cosenza recorded two hits and struck out once in seven at-bats through both games. He also scored one run, adding his fifth home run of the season in the first game, and he collected five RBIs.
"I definitely knew that it was out; I peaced that ball," Cosenza said. "My second at-bat, I think I hit the ball a little harder, but the wind [ruined] it. We just need to keep hitting the ball hard, and we'll be good."
The Chaparrals look to extend their win streak to three against the South Suburban College Bulldogs at 2 p.m. on April 20 in South Holland.