COD Baseball Sweeps Milwaukee Area Technical College on Sophomore Day
The College of DuPage baseball team celebrated their sophomores and went on to take two wins over the Stormers.
The College of DuPage baseball team had shaky starts to both games against Milwaukee Area Technical College Wednesday afternoon, with the Stormers leading early in both games. With late-scoring rallies and zoned-in pitching, the Chaparrals took down the Stormers in both games, winning the first game 6-4 and the second game 6-5. These wins raise their conference record to 4-2 and their overall record to 32-13.
"I can't really complain; we got two [wins]," head baseball coach Bobby Wilson said. "We got behind early. We just stuck to our approach in the [batter's] box, we threw strikes, we played defense. We did a great job at trying to compete and win the baseball games."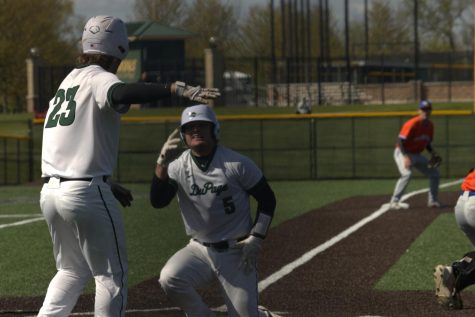 The Chaparrals recognized 16 sophomores before the last two home games of the regular season.
"The sun was out and it wasn't cold, so all in all, it was a good day," Wilson said. "I'm happy to see our sophomores up there and see them get some recognition from putting hard work in and effort for the last two years. They deserve every bit of it."
Sophomore infielder Joe Cosenza recorded three hits and walked twice in four at-bats through both games. He scored three runs, adding his seventh home run of the season in the first game and his eighth of the season in the second game. He also collected two RBIs.
"[I was] seeing the ball well and spanked them out the yard," Cosenza said. "They were in big spots too. It was the momentum that we needed. Nothing beats hitting a home run; it's the greatest feeling ever."
Sophomore outfielder Kyle Fenner recorded three hits and walked once in seven at-bats through both games. He scored three runs and collected two RBIs. He also stole five bases and leads the NJCAA DIII in stolen bases after taking the top spot from MATC sophomore infielder Ethan Rossow.
"I knew we were going against [Rossow]," Fenner said. "I wasn't trying to do anything different today, but I was definitely trying to steal a few more bags. It's fun competing against someone who's doing the same thing you are."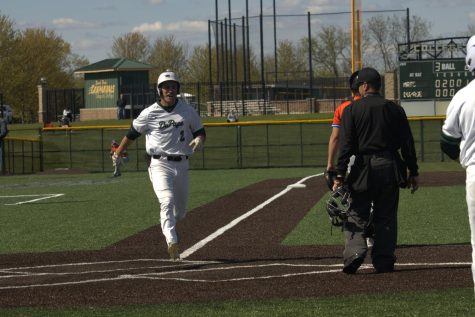 Freshman pitcher Brady Friend made his third start of the season, pitching through the second game. He threw one walk but allowed eight hits and five runs.
"It's easy pitching when you have a good defense behind you," Friend said. "Especially the defense we have. We probably have one of the best defenses in the nation. My job is easy when they're behind me. I throw strikes and let them do their work."
Freshman pitcher Ryne Willard closed the first game, pitching through one inning. He threw two strikeouts and allowed one hit, but gave up no runs. He said he looks forward to battling the Madison College WolfPack.
"Madison is a great team, they're well-known around the nation," Willard said. "We're looking to make our mark on them. We want to be heard too. We feel like we have a very good team that can go far. Winning two games tomorrow would be big for our conference record and for DuPage's name."
The Chaparrals take on the Madison College WolfPack (32-10) in a doubleheader. The first game starts at 2 p.m. on May 4 in Madison, Wis.