COD Baseball Prevails Against Oakton College Owls
The Chaparrals beat the Owls with a stable defense and strong offense.
The College of DuPage baseball team had something to prove to Oakton Community College after losing to them earlier in the season. With pitching and defense that shut down the Owl's batters and steady hits from the offense, the Chaparrals beat Oakton 5-2 and raised their record 28-12.
"This is probably the first time we've done it all," head baseball coach Bobby Wilson said. "We hit, played defense and threw strikes. At game number 40, we've finally figured it out. We clicked on all cylinders. It shows how good we can be and what our potential actually is."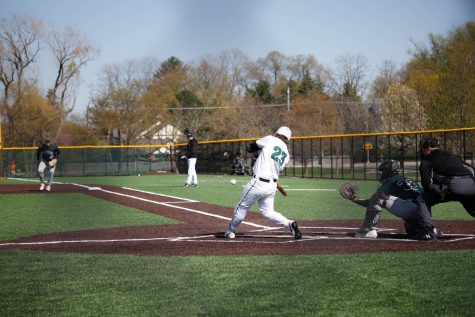 Sophomore outfielder Jason Cousineau recorded three hits and walked once in three at-bats. He also scored two runs, adding his sixth home run of the season and collected three RBIs.
"I definitely had a feeling [the ball] was out," Cousineau said. "I still don't pimp homers, ever. To say I was running around the bases would be a lie. I was definitely jogging because I thought it was out. [The pitcher] missed with a middle-middle fastball and I popped the first pitch of the at-bat. I'm always looking to swing at the first pitch of the at-bat. He very much missed his spot and I took advantage of it."
Freshman pitcher Joe Seiber threw five strikeouts and three walks through seven and one-third innings. He allowed four hits and two runs.
"Last year, [Oakton] knocked us out of the playoffs," Seiber said. "That one hurt and we kind of built a rivalry with them. To get this [win] feels great. The whole time, [Cousineau] was telling me 'keep throwing, we got you.' That whole time I just kept throwing strikes and doing my job. The offense did their part and we ended up taking the W today."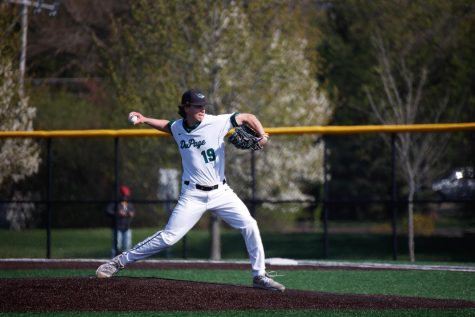 Freshman utility Quinn Flanagan recorded one hit and walked once in three at-bats. He also scored one run.
"It's good to know that my teammates trust me," Flanagan said. "We all trust each other. We're a very tight-knit group, so going into this game, we had no worries. This [win] shows that we have a deep team. We've got good pitchers. We've got good outfielders and infielders. We're good all over, and I think we're going to make a good run [in the playoffs] this year."
Freshman pitcher Ryne Willard closed the game, pitching through one and two-thirds innings. He allowed three hits, but gave up zero runs.
"My coach called me today and asked if I would be willing to finish a game," Willard said. "I said 'Yeah, give me the ball' because every time I get the chance to get the ball, I want it. Especially against these guys. It's nice knowing I have a defense behind me; it makes pitching easier. I didn't have my stuff today, but I knew if I just let [batters] hit then my guys back behind me would make plays. It was a fun day on the mound."
The Chaparrals battle the Illinois Valley Community College Eagles in a doubleheader with the first game starting at 2 p.m. on April 28 at the COD Baseball Field.