Club Pilates offered free classes this Past Mother's Day weekend: a fitness challenge designed for every body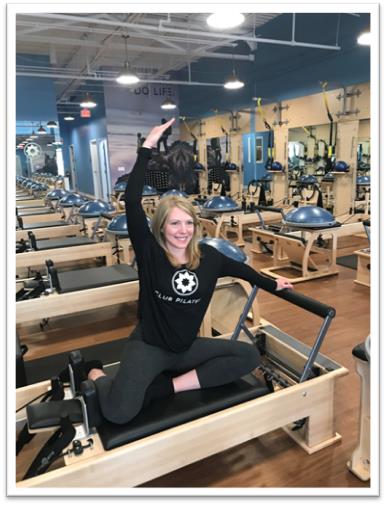 A commuter school like College of DuPage (COD) often is home to many students looking for a new start or a change in their life. Perhaps they are looking into a career change, or maybe they are returning to school after years out of the workforce. Kristen Kohn was once in this position herself. After years of raising her twins as a stay at home mom, Kristen took the plunge into business ownership.
"My children are now nine, and I decided to reevaluate what I wanted to do next in my career," Kohn said.
Kohn, who has a business background, always knew she wanted to be her own boss and control her own schedule. While she was eager to jump back into the workforce, she also wanted to keep her family a priority. With this commitment in mind, she was willing to try something completely new.
"I didn't know this was the path I was going to take," Kohn said. "As you progress in your career and life, it is true that you have to do what you love."
Kohn has also always been a fitness enthusiast and, motivated by her passion for health and wellness, opening a Pilates studio seemed like a natural fit. Kohn is actively trying to open up the world of Pilates to more people in her community, hoping that everyone can come to see the benefits.
"The Club Pilates approach is to make reformer Pilates more accessible and less intimidating for people to try because Pilates is a method that can really help, literally everybody," Kohn said. "The workout really comes from the mind body connection, the control of your body, your movement and your muscles."
Club Pilates, located in Westmont, near the COD Westmont campus, had an event over the Mother's Day weekend, May 11-13, in celebration of its recent Grand Opening and Mother's day. Not only did the club offer complimentary Pilates introductory classes with raffles and giveaways, but new members also enjoyed 20 percent off the sign up fee and discounted workout gear. 
While there those who are new to Pilates learned more about what Club Pilates offers its members. As part of the nationwide program, Club Pilates classes offer four different difficulty levels. The Westmont branch offers two levels, with higher-level classes opening up as members progress. Within these levels, the club offers nine different kinds of classes, including Cardio, Sculpt, Flow, Control and more. Private classes are also available for those who wish to have one-on-one training with a professional instructor.
My Free Trial Experience
My first session was a one-hour, beginner-level Club Pilates Reformer Flow class. I was nervous, especially when I gazed upon the reformer – the Pilates bench machine that is all too reminiscent of a torture device. Fortunately, I was wrong. The class was a great introductory look at how the machine works. Essentially, it is there to support the work you do. Almost all the movements are done entirely with your own strength and body weight. If you are looking for a workout that engages every muscle, tones and strengthens your core, but also allows you to spend a lot of time lying down and allows you to leave without breaking much of a sweat, this is the exercise for you. Of course, if you are anything like me, you might also want to set aside some time the day after class to reacquaint yourself with all the muscles you may not have been using for far too long.
Dina Castillo, the general manager at Club Pilates, has been working in the fitness industry for 16 years. She loves that Pilates is a form of exercise that works for every age, demographic and fitness level. This was certainly true when I visited. Men and women both can participate. In the class with me was both an adult woman and her mother. Castillo said Pilates can be a part of your regular fitness routine, or can complement other activities.
"It works in a different way to other forms of exercise," she explained. "In Pilates, there is a huge emphasis on working deep internal core muscles. So it's not necessarily about moving fast or with high intensity but about doing it correctly and with control."
Although I had experience with yoga and balance classes, I had never before experienced a true Pilates class. It was a great experience, and the benefits would certainly work for me and my long-term fitness goals. As a tall woman, with years of bad posture weighing my shoulders down, I walked out of the facility with my shoulders up and my core feeling stronger than it had in some time. That alone makes it a worthwhile investment for me.
If you are interested in trying it for yourself the club is open now. With a free introductory class available, there really is nothing to lose. For more information, visit their Facebook page at https://www.facebook.com/clubpilateswestmont/, or their website at https://www.clubpilates.com/location/westmont/
Club Pilates Westmont is located at 810 E. Ogden Ave., Westmont, Il, across the road from the COD Westmont campus and a 20-minute drive from the main campus.