Chaparrals Triumph Over WolfPack to Win Regional Championship
The College of DuPage men's basketball team dominated the Madison College WolfPack to win COD's second Regional championship of the night.
Going into the NJCAA Region 4 Division III championship game Sunday afternoon against Madison College, the College of DuPage men's basketball team radiated confidence. With an impenetrable defense and consistent rebounds in the Joliet Junior College Event Center, the Chaparrals beat the WolfPack 85-69 to bring home the NJCAA Region 4 Division III championship.
Head men's basketball coach Joe Kuhn was named NJCAA Region 4 Division III Men's Coach of the Year.
"I'm really happy about how our guys have come through this season and how much they've progressed," Kuhn said. "I've done this a number of times, I think this is my eighth region championship. They never get old. I love every one of them, but it's [the team's] first region championship, and that's what I'm most excited about."
Early in the first half when the Chaparrals were leading the WolfPack by 10 points, assistant men's basketball coach Eric Garcia said that's when he knew COD would come out on top.
"I was thinking to myself, 'Madison isn't ready to play,'" Garcia said. "We came out and punched them; they didn't know what hit them. When we were pushing that 10-point lead early on in the first half, I thought, 'Madison doesn't want it; we want it.' At that point then it was just about getting there, maintaining focus and composure."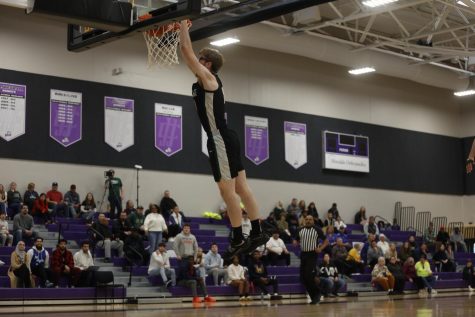 Freshman guard Alijah Nelson racked up 21 points with three assists and one rebound. He said that compared to the first game of the tournament, the Chaparrals stayed locked in on defense.
"When we came out, we had a lot of energy," Nelson said. "We were playing tougher than they were. So from the jump, I felt like the game was in our favor. Getting to the point where we feel like everything is coming together just feels nice."
Sophomore forward Matt Elliot scored 10 points with eight rebounds and one block. He received a plaque and was named part of the NJCAA Region 4 Division III all-tournament team.
"Right off the jump, we went on a little run, and I thought they weren't going to be able to keep up with us," Elliot said. "We have too much energy, too much skill, and we wanted it more. I don't think we lacked in any category. Our defense was there, rebounding, shooting, and we executed on both ends."
Sophomore guard Finn Walsh earned 10 points with three rebounds. He also led the team with six assists and one steal. Walsh was the second Chaparral to be named part of the all-tournament team alongside Elliot.
"We came in knowing we were going to win this one; I'm not going to lie," Walsh said. "I know players on our team who could barely sleep; we were just so hyped for this game. Especially because of the fashion we lost in last time, [Madison won] on the buzzer beater; we felt like this team couldn't play with us, and I feel like we showed that today."
Sophomore forward Gerald Tate scored seven points and led the team with nine rebounds. He also made two assists.
"For the most part, we did well on the rebounds," Tate said. "[We did] very well on the rebounds and very well on defense. We held [Madison's] two best players under their averages, and it paid off. Our energy was outrageous, I don't think there was anything that could've affected us."
Sophomore guard Drew Gaston led the scoring with 22 points and two rebounds. He also made two assists and one steal. Gaston was named Most Valuable Player for the NJCAA Region 4 Division III tournament and received a plaque.
The Chaparrals will battle for the NJCAA Great Lakes District championship against the Lorain County Community College Commodores at 1 p.m. on March 4 at COD's PEC Arena. The Commodores have a 12-17 record on their season and will be making a second consecutive appearance in the district final.