Chaparrals Split Doubleheader Against Spartans
The COD Baseball team took one win out of two against Elgin Community College.
The College of DuPage baseball team had two commanding pitching performances, keeping Elgin Community College's offense from controlling the doubleheader Tuesday afternoon. With a late hit from sophomore infielder David Marshall to drive a runner in, the Chaparrals took the first game, but their defense couldn't keep them in game two.
The Chaparrals split their second doubleheader of the season against the Spartans at home, winning game one 2-1 and losing game two 4-7, making their record 27-12
"Our pitchers did well," head baseball coach Bobby Wilson said. "[Conner Chapulis] threw the ball well and so did [Jake Spotafora]. We just lost focus on defense; that's the main reason why we lost the [second] game. You have to be able to catch the ball and throw the ball. We didn't do that today very well. That's why we [split]."
At the top of the sixth inning in game two, the Chaps gave up five runs to lose the lead against the Spartans.
Sophomore infielder Joe Cosenza recorded two hits and struck out once in seven at-bats through both games. He also scored two runs and collected one RBI.
"It was a really close game the first game, and we ended up winning," Cosenza said. "The second game we were cruising, beating them. Then we just lost focus in the fifth or the sixth. They put up some runs, and it was too late for us to come back."
Spotafora, a freshman, made his second start of the season, pitching through five innings in the second game. He threw four strikeouts but gave up six hits and seven runs.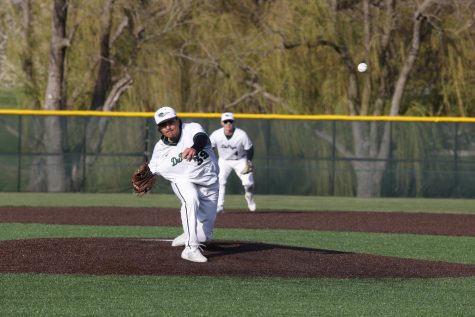 "There's not much to elaborate on in those two games," Spotafora said. "We just need to stay focused. We need to make every pitch and every at-bat count, and that's what it all comes down to."
Chapulis, who is also a freshman, made his third start of the season, pitching through the first game. He threw six strikeouts and four walks but allowed four hits and one run.
"I just think about toning things out [on the mound]," Chapulis said. "I worry about what the team needs, not what I need. I just do my job."
Freshman outfielder Aden Aukland recorded three hits and struck out once in four at-bats through the second game. He also collected one RBI.
"We played good for 13 innings, but that one inning is what really messed us up," Aukland said. "They put up a five spot in the fifth or sixth inning and then we lost focus. That can't happen. Other than that, we did pretty well."
Marshall recorded three hits and struck out once in eight at-bats through the two games.
"These were just two games of baseball," Marshall said. "Crooked numbers happen. [Spotafora] threw his ass off, [Chapulis] threw his ass off in game one. We got unlucky [in the second game]. They had one big hit, and that will rattle you. A win is a win, a loss is a loss: we're moving on tomorrow."
The Chaparrals take on the Oakton Community College Owls at 3 p.m. on April 26 at the COD Baseball Field.