Chaparrals Split Doubleheader Against Pioneers
The Chaparrals won their first game and lost their second against the Pioneers, winning three out of their last four games.
The College of DuPage softball team extended their hitting power from their previous two wins over Harper College into their first game against Prairie State College at home, putting the first game away early. After a slow start in game two of their doubleheader Saturday afternoon, the Chaparrals couldn't fight back against the Pioneers. The Chaparrals split the doubleheader against the Pioneers, winning the first game 15-2 in five innings and losing the second 9-0, making their record 14-4.
"This was game four in less than 24 hours," head softball coach Barry Froehle said. "They hit the ball very well in the first game. They hit the gaps. The base running was very good, and the defense was very good. They just got tired that second game."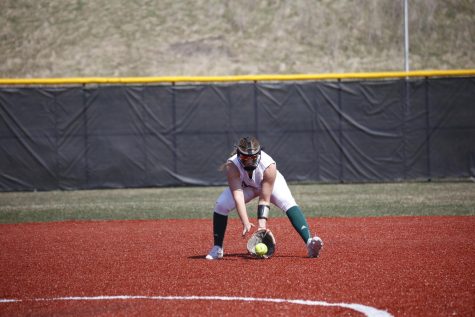 Sophomore pitcher Amber Dasenbrock pitched six innings through the two games, allowing nine hits and six runs. She also threw eight strikeouts and one walk with five errors through both games. While hitting, Dasenbrock recorded one hit and collected two RBIs in five collective at-bats.
"My arm was really sore after the two games [against Harper]," she said. "It felt better the next morning, so I was ready to go again [against Prairie State]. It does take a toll near the end, so I'm definitely going to be icing it when I get home."
Sophomore infielder Raquel Procopio recorded four hits, walked once and struck out once in five at-bats through both games. She also scored three runs, adding her third home run of the season and collected three RBIs.
"I don't know what pitch it was, but as soon as I hit it I thought it was going [over], but I didn't really know," Procopio said. "Same thing as [last time], nothing goes on in my head, I just try to make it home so I can celebrate with my team."
Freshman utility Katlyn Allen recorded two hits in five at-bats through both games. She also scored two runs, adding her second home run of the season and collected two RBIs. Allen said transitioning from basketball to softball this season has had its challenges.
"There's definitely a big difference in the movements that I'm doing," Allen said. "[There's also a difference] in the body parts that I'm using. I'm still coming back from my ACL injury and having some hip issues. It's a big change, but I'm just trying to work through adversity and get through it."
Sophomore infielder Paige Jahaske recorded two hits and scored one run in five at-bats through the two games. She also collected one RBI.
"We did a pretty good job at hitting the ball hard today," Jahaske said. "[In the first game] we were hitting it hard, but in the second game, we were hitting it right at players which didn't help. We just need to keep the hitting going next week."
The Chaparrals take on the College of Lake County Lancers with the first game starting at 12 p.m. on April 11 at Sarkisian Park.
For more photos of the game, check out our photo gallery by Rachel Wagner.