Chaparrals Knock Lancers Out of the Park in Eight Innings
The College of DuPage men's baseball team stayed hot offensively throughout the game, winning 18-8 after eight innings over the College of Lake County Lancers.
The College of DuPage baseball team dominated College of Lake County offensively with a collective total of 20 hits Tuesday afternoon. Sophomore outfielder Jason Cousineau hit a three-run, walk-off triple to end the game after eight innings. The Chaparrals beat the Lancers 18-8 in eight innings, raising their record to 9-3 and remaining undefeated at home.
"I thought we swung the bat extremely well again," head men's baseball coach Bobby Wilson said. "With the wind blowing out, [it was] another great day to hit. It's all based on our approach and sticking to what we do best, and that's hitting the ball hard."
Freshman pitcher Joe Seiber threw six strikeouts and four walks with two errors through six innings.
"I didn't have the best outing last time," Seiber said. "I came out and tried to throw strikes, and it ended up working."
Freshman outfielder Aden Aukland made three hits in five at-bats and added his fourth home run of the season. He also made four RBIs and scored two runs.
"The first three at-bats that I had, I was late on first-pitch fastballs in the zone," Aukland said. "I got my foot down, and I actually got [pitched] a curveball. I saw it, I drove it over the fence."
Cousineau made one hit in two at-bats with three base on balls. He also scored two runs and made five RBIs.
"Whenever I take a pitch, or swing at a pitch poorly, coach [Wilson] gives me that look," Cousineau said. "It's the look [telling me to] keep my hands up, and when I keep my hands up and stay inside the ball, the ball flies. That's my goal at the end of the day, to make coach happy and keep my hands inside the ball."
Sophomore infielder Joe Cosenza made two hits in five at-bats, earning his second home run of the season. He also scored two runs and made one RBI.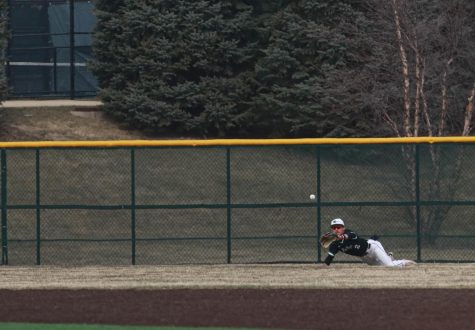 "I just keep it simple and look for fastballs out there," Cosenza said. "I don't want to swing at any balls in the dirt or any balls that I can't hit hard. When I finally get that fastball, I just take advantage of it."
The Chaparrals will look to extend their win streak to three against the Moraine Valley Community College Cyclones at 2 p.m. on March 24 at the COD Baseball Field.