Chaparrals Fall to Bulldogs in Final Home Game of the Season
The College of DuPage women's basketball team couldn't break through in their final home game of the season.
With the defense fighting an uphill battle, the College of DuPage women's basketball team was consistently trailing behind South Suburban College Monday night in their last home game of the season. The Chaparrals couldn't get past the Bulldogs' mental game or surplus of three-pointers, handing them a 59-70 loss and a 13-14 record.
"We just weren't mentally strong today," head women's basketball coach Abby Tally said. "We have more wins than we've had in the last 20 years, College of DuPage is no joke, teams know that and they want to compete against us. We also know that we tend to not be mentally strong in some spurts and unfortunately during this game, you could definitely see a lot of us not being mentally strong."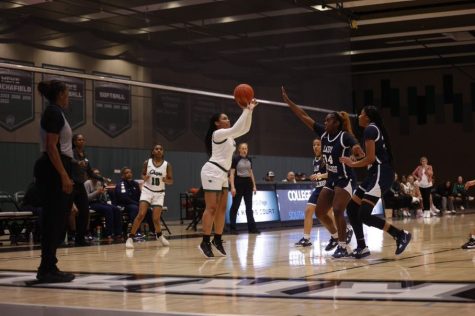 Sophomore guard Mykah Berkompas led the scoring with 15 points and one rebound. She also made six assists and two steals.
"Honestly, [the loss] does suck because it was our last home game and we didn't come out with the win," Berkompas said. "With me being a sophomore, it's emotional, but we still played hard today. We just didn't play the COD basketball that we've been playing recently."
Sophomore guard Alyssa Havard scored 13 points with six rebounds. She also made one assist and three steals.
"This one hurts," Havard said. "We win some, we lose some and even though this was the last home game, we still have to keep pushing. It's a little setback, but we're going to keep pushing to regionals and hopefully win."
Sophomore forward Katlyn Allen scored seven points with nine rebounds. She also made three assists and four steals. Allen fouled out of the 4th quarter.
"That's just how the game's going to go at times," she said. "We have to adjust to [the referees'] game and sometimes we may not like the calls but they're calling the game. We just got a little unlucky tonight, but we have to work as a team, and sometimes it's going to be like that so we have to use each other as momentum."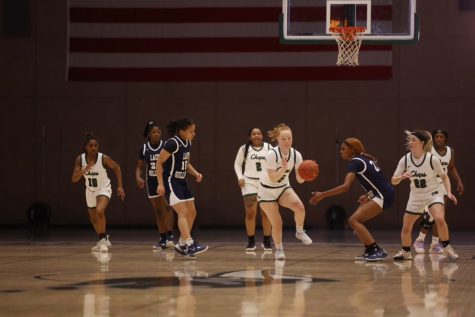 Freshman guard Sierra Gibson scored five points with three rebounds. She also made two assists and one steal.
"I'm going to talk [to the other team] because that's what pumps me up," Gibson said. "When they start talking to me, it's going to get to me because my head is in the game. They definitely got to me mentally."
Sophomore center Kayla Smiley made four rebounds, two assists and one steal.
"Today, I was given an opportunity to play," Smiley said. "I normally don't, and putting it on [the other team] is not how I play. Let them be angry, I won't let them get in my head."
The Chaparrals will look to draw back into the win column against the College of Lake County Lancers at 5:15 p.m. on Feb. 17 at Grayslake.