Caillat kicks off MAC season
Colbie Caillat takes the stage at College of DuPage
Beachy pop superstar Colbie Caillat, accompanied by opening act Alex and Sierra, wowed the audience with a nearly two hour long set on Aug. 29 at College of DuPage's MAC. Caillat performed a range of songs from her previous works and even an unheard side of her upcoming album, "Gypsy Heart," to be fully released Sept 30.
Caillat's stage was set with large screens which transitioned from scenes and decorative pictures to pictures of fans as well as her own music videos. The screens also served to welcome Caillat's "special guests", Jason Mraz, Jason Reeves, and Common, whom sang their parts in her duets (Mraz on "Lucky," Reeves on "Droplets" and Common on "Favorite Song"). although not able to attend in person.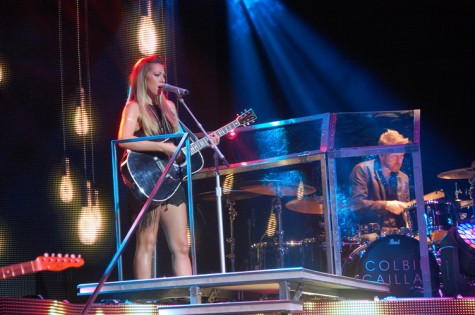 The audience, ranging from children to senior citizens, responded to Caillat's performance with overwhelmingly loud cheers and stayed involved with Caillat's interactive show. Not only did Caillat, and Alex and Sierra give away a signed ukelele to someone in the balcony, but throughout the show, Caillat handed out tattoo stickers to those she could reach, and asked kindly that they be passed back to those not near the stage.
Overall, Caillat and crew created a fun, joyful atmosphere, similar to what you would expect from her records, and her voice was almost better than heard on her recordings. This MAC season opener will be one for the books.
Caillat has been known for making inspirational music, with nothing but good messages, in midst of an era known for degrading music.
"Her music has more to it than 'throw your hands in the air and dance' like a lot of songs on the radio," concertgoer Maddie McGinnis said.
Caillat has stayed true to her sound, and her own beliefs, and proved that to the world with the release of her new song "Try". The songs digs deep into the thought of self-respect, and loving what you see when you look in the mirror.
"From childhood, we are trying to find out who we are. We are always altering and changing that image, and I wish I hadn't spent so much time trying to be someone else.
"When we look in the mirror and point out everything we don't like about ourselves, it becomes a vicious cycle. When I look in the mirror, I try to accept it or embrace it. If I don't hide what I don't like about myself from people, maybe they won't hide it from the next person," said Caillat when closing the song at the MAC.
While performing, Caillat's "Try" music video, which premiered on July 8, played in the background. In the video, Caillat, as well as many women of different backgrounds and ages, show their faces with make up, and throughout the video, remove it to show their bare skin.
 Caillat makes a bold statement about natural beauty and proves that despite the media's pressure to be perfect, and passer by's calling her "not photogenic," she is comfortable in her own skin and wants her fans to feel the same.
"I've seen her on TV, and her song "Try" was very empowering," said Diane Meibior, a long time attendee of MAC performances.
Mother and Daughter Nancy and Anna Nowaczyk agreed by saying that the song sends a positive message to young girls.
"Try" was released as a part of Caillat's, "Gypsy Heart: Side A," an EP made up of five songs. This is considered to be part one of her final album. Caillat played two songs off of her new album titled "Floodgates" and "Far Away", and even got the crowd singing along. From the preview of these songs, the album seems to be very well represented in the release of "Try."
Caillat's new songs are complete with empowering messages about being true to yourself, and confident in your own ability. Of course, they are also catchy.
Her upcoming album, "Gypsy Heart," hits digital outlets and stores on Sept. 30. Listen to Caillat's single, "Try:"