The College of DuPage women's volleyball team speared through Kankakee Community College on Oct. 4 at home. Keeping their swings aggressive to win the first two sets and clawing their way up from a 3-8 deficit to win the third, the Chaparrals helped sophomore setter Ashley Bylsma achieve an in-game milestone.
Uncompromising, the Chaps shut out the Cavaliers 3-0 to raise their record to 18-11. The final scores of the sets were 25-19, 25-15 and 25-20.
Bylsma reached her 1,000th career assist, ending the third set with 1,001 total. She also picked up 11 digs.
"Honestly, at the start of the season it wasn't really one of my goals," Bylsma said. "Then I saw I was getting kind of closer and I thought 'maybe I can actually do this.' It was really special to be able to hit 1,000 assists this year.
"I didn't know it could happen tonight," she said. "I wasn't sure if I was going to get there, but it happened. It was really cool for it to happen here at home."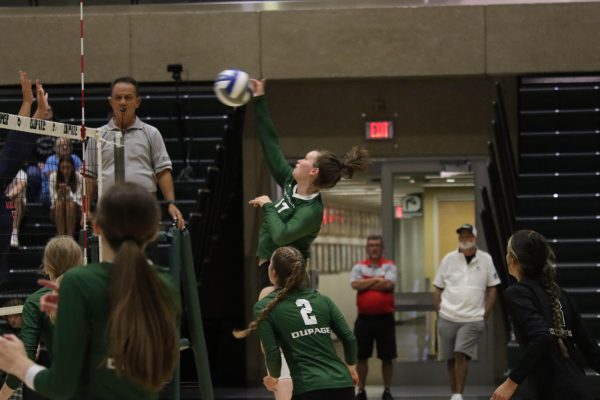 Head coach Tolis Koskinaris said the coaching staff noticed she was getting close to the milestone earlier in the week.
"Ashley Bylsma is the ultimate teammate," Koskinaris said. "[She's] incredibly selfless, but at the same time her main focus is winning. She always has that at the top of her mind, [she's] very locked in always. She set our national championship team and came in without having played most of the season last year. Ashley stepped in, and once she got comfortable with the team we never looked back."
Koskinaris described the shut out win as a showing of the team's increasing resilience as the season winds down.
"We're finding our way, but we still have a lot of tough games left," he said. "The third set showed our character and maturity again similar to yesterday with Oakton. We were down early on, however, our team has gotten comfortable playing with tension. That's a good thing. That's important as we get down towards the end of October."
Sophomore outside hitter Amanda Leibrock led the team with 15 kills on 39 attacks with nine errors. She also made four digs and four block assists. Leibrock reflected on the team's tendency to falter in the third set, and how they overcome it.
"The third set is kind of always a struggle for us," she said. "I don't know what happens, but that seems to be where our energy dips. We've been trying to get better about staying positive, keeping our energy up and making sure that we're all doing our jobs in order to get out of those ruts. I think that's what we did tonight, which is good because it shows our resiliency. It's something we're going to need going into postseason."
With seven games remaining in the regular season, the Chaps' defense continues to improve with sophomore libero Cyd Martinez honored as the NJCAA Volleyball DIII Defensive Player of the Week.
Martinez picked up 17 digs and three set assists. She also scored three service aces on 22 attack attempts. In the second set, she participated in scoring 14 of the 25 points.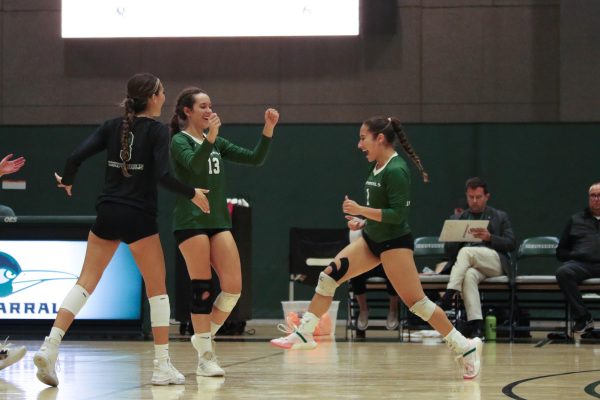 "I've been hearing about [NJCAA Volleyball DIII Defensive Player of the Week] ever since I started playing," Martinez said. "I thought that would be something that's really cool to get, and I ended up getting it on my own here. I think it's an accomplishment for me, because I'm not someone who loves recognition, but having it is really nice. It shows that I am competitive, and I can accomplish milestones like that."
Freshman left side Melissa Alvarez spiked 12 kills on 35 attacks with two errors. She also made one block assist and 10 digs. She spiked Bylsma's 1,000th assist to make a kill and has been trying to find more aggression in her swings.
"Our first game of the week is always a little slower," Alvarez said. "We slowly build up, and bring more energy and aggression. As hitters, we feel really good swinging hard, because we know that we have our back row there to cover."
Freshman middle hitter Josie Becker landed six kills on 18 attacks with four errors. She also made three block assists and three digs.
"We were way more aggressive with our hitting," Becker said. "On the other side, they tipped [the ball] a lot. They were pushing it a lot, because I think we scared them a little bit."
The Chaparrals face their conference rivals in the Harper College Hawks for the last time this season at 6 p.m. on Oct. 5 in Palatine, Ill.