What we want in a new president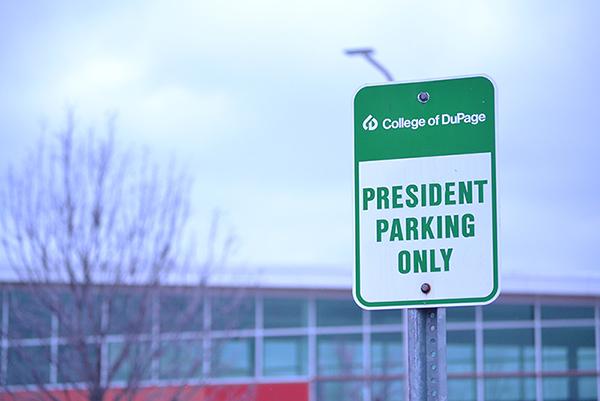 When it comes to the presidential drama of the past few years, the College of DuPage has been through the wringer. Though our former president Robert Breuder began with a legacy of major college-wide improvements, his irresponsible antics ultimately left the school danger of losing its accreditation, and it's up to our new president, whoever that may be, to fix it.
You may be asking yourself, is it even possible? Can we really bring COD back to its pre-Breuder glory? Yes, we absolutely can. But the key here is what we require of our next leader, and what qualities and ideas we as students and faculty are looking for in this person.
We at the Courier believe the president should have experience working in higher education. This is a basic expectation, and should absolutely be a requirement of all the candidates the Board of Trustees are considering. Running a college, especially a publicly funded one, takes a very special kind of management, and at this point we can't afford to have someone inexperienced take us forward.
That being said, let's make sure the candidates in question have glowing recommendations from their previous employers. This is where the school initially went wrong with their decision to hire Breuder. His previous job as the president of Harper College ended in a cloud of many of the exact same issues… he caused at COD. This was a huge mistake on the former board's  part, and we absolutely cannot let it happen again.
The new president also needs to be able to collaborate with the board  It's no secret that the board is split, and both sides have a goal of not letting the other win. Our president needs to be able to surpass this and find a way to work with both sides. Bonus points if they manage to get all trustees to work together.
Our president needs to have a relationship with more than just the board though. They must maintain a good relationship with us, the students and faculty. We are the true essence of COD. The president needs to be approachable, accessible and visible on campus. Students should feel like they know the president, or at least know what he or she looks like. Students and faculty should feel like they can approach the president, and that as a whole their voices are heard and their ideas are considered. It's also important that they foster a sense of trust among the faculty, which was initially lost by Breuder. The president should never disregard anyone's opinion just because they hold a "lesser" position.
The president needs to be active in the COD community. Joseph Collins, our acting interim president, has done a great job with this (among other things). He turned Breuder's awful "Pizza with with President," which was often just a chance for him to lecture students, into a friendly "Coffee with Collins," where faculty and students  are given a chance to discuss college issues  or even just chat with Collins. Positive events like these should delete  remain a staple of COD's relationship with the president.
Furthermore, the president needs to really care for students and faculty. He or she should not take this position as a power trip, but rather use the power to make decisions that benefit the students and faculty.
All of that being said, there is one thing we don't have to worry about with our future president. They are going to be determined. They are entering a school with some serious issues that need to be faced immediately, the first being our probation. These candidates are coming into this job knowing full well they need to carry us through this challenging time so we don't lose our accreditation. That takes guts, and our president will not be afraid to face any possible hardships that may come.
The president is a position that requires power, authority and most importantly: trust. They must trust COD, and COD must trust them. There must be transparency, honesty and forgiveness where it is due. The most meaningful thing the president can do is earn our trust back. Until then, we'll be waiting.