VMA's 2015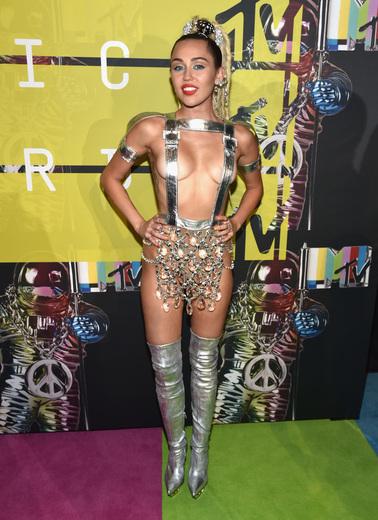 With much anticipation and hype, the 2015 MTV Video Music Awards aired at 8 p.m. on Aug. 30. Hosted by none other than Miley Cyrus, the overarching theme for the night could be interpreted as "Let's see just how obnoxious Miley can get". I think it's safe to say she definitely lived up to that regard.
The whole award show, from beginning to end, was dripping with psychedelic, headache inducing distractions. Miley's barely-there costumes consisted of suspenders covering her boobs, lots of holes where clothes should have been, and a plethora of other garments beyond description. In all honesty though, what else could one have expected? She stayed true to her brand of being completely unhinged, so at least she's got that going. She also has a new album, entitled "Miley Cyrus & Her Dead Petz," that is now streaming free online, in case anyone is remotely interested.
As for the actual awards and performances, there was a whole lot of catty drama, rehashed feuds, and confrontational bickering. Some music was sprinkled in here and there, but that's not what music award shows are about, right?
Taylor Swift joined Nicki Minaj onstage for the opening act, as if only to prove to the world that their newfound bestie status is, in fact, real, and their naughty Twitter feuding days are behind them. Minaj also took to verbally calling out Cyrus onstage after accepting her award for Best Hip-Hop Video. After some rather brief words of gratitude to her fans and pastor, she continued with "Now back to this b**** that had a lot to say about me the other day in the press. Miley, what's good?" The show even made a point of putting Taylor Swift on the spot to give Kanye West his Video Vanguard Award, reiterating their drama from 6 years ago; because this is, after all, what's important.
Justin Bieber performed for the first time on the VMA stage in 5 years. After many apologies and time spent out of the spotlight, The Biebs returned stronger than ever with his performance of "Where Are U Now" and his new single "What Do You Mean." He was doubled over with what appeared to be genuine emotion, only to be cut short by Miley flashing the audience yet again with her various exposed body parts.
And so, this is how the show proceeded through the night; glimpses of artistry overshadowed by the more powerful force of personal agendas and starving egos. Better luck to you next year, MTV.