Second half efforts not enough to win match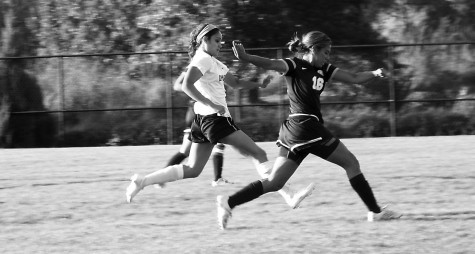 Playing against Rock Valley, College of DuPage's women's soccer team suffered its first conference match loss this season, ending the game with a score of 4-3.
The first half of the game looked very grim for the Chaparrals. Rock Valley was in the lead 3-1, and was giving COD a hard time to score. The Rock Valley Golden Eagles performed very well in terms of passing, teamwork, and defense. When the Chaparrals got control of the ball, the Golden Eagles were able to intercept it very quickly. On top of the troublesome defense, the Golden Eagles' passing was able continuously get the ball within scoring range of the Chaparrals' goal.
Although the Chaparrals tried to defend their goal, the Eagles' multiple attempts eventually paid off, ending the quarter two points ahead.
In the second half, the Chaparrals began to make a comeback after Angela Toritto made a penalty goal. Working quickly, the Chaparrals managed to work together better by improving their offense. Driving the ball up much more than in the first quarter, the Chaparrals yet scored another goal against the Golden Eagles.
Despite the rejuvenated playing, the Chaparrals weren't able to defend their goal for the rest of the game. The Golden Eagles scored, which brought them into the lead. After the goal was made, the Golden Eagles played very well together, ensuring that the Chaparrals didn't score against them for the duration of the game.
Although it was a tough loss for the Chaparrals, the team looks to have good chemistry and has been putting in full effort.
"It was an unfortunate loss, with us playing so well, especially in the second quarter. I'm just looking forward to season to make improvements, and we'll be playing them in a few weeks, so I just think we should prepare for that," COD soccer Coach William Fajkus said.
Since COD has played against Rock Valley, the Chaparrals played their fourth conference game, resulting in a 6-1 score. This brings the Chaparrals' conference record this season to 3-1.