An internship is an integral part of the Paralegal Studies program at the College of DuPage. Whether newly graduated high schoolers or older adults shifting to a new career path, all of the graduating students praised the experience they gained during the past semester in their capstone internships at local law offices and state agencies. 
Ten graduating students of the Paralegal Studies program presented their professional work portfolios in this semester's Paralegal Portfolio Expo on Nov. 16. They set up tables with legal work samples, academic awards, as well as personal memorabilia like their sports trophies and family photos.
The expo is like a career fair networking event, where students present their qualifications and perform interviews with local attorneys and legal professionals. By the end, some students received job offers or made connections with possible employers. Graduating student Evelyn Cottrell described her experience in the Paralegal Practicum class and her law firm internship.
"The Paralegal Practicum taught us valuable skills about interviewing and practical life skills to use when applying for a position, as well as allowing us to look within ourselves to discover what our career goals are, what our work philosophy is, and what makes us stand out amongst the crowd in an interview," Cottrell described. "It helped me build confidence and gave me a good reminder that I have valuable qualities that could benefit any firm."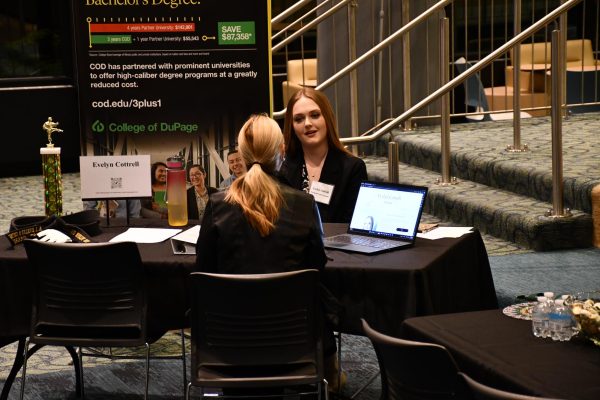 Cottrell agrees with the other students that the interviews were not as complicated as they had expected, and the interviewers were very encouraging. There were a few questions that tested their paralegal knowledge, such as one important question about the three Cs of legal ethics: competency, confidentiality, and conflict of interest.
The Paralegal Studies program is among the handful of Business and Applied Technology Division at COD, which uniquely offer a practicum class and built-in internship. The program graduates about 10 students every semester, with about a hundred more at various stages in the completion of their degree or certificate. The complex demands of the legal field make it important to receive adequate education and job experience through an internship.
"I think having an internship is very valuable but does not teach you everything you may encounter as a working paralegal," Cottrell said. "I felt like my internship provided me with a good opportunity to draft documents, be involved in client files on Clio, and learn how to scan documents – which is definitely something paralegals need to know how to do! I did learn a lot, but I also believe that if I had taken a class in or learned about the field prior to my internship, I would have had more knowledge of the field and would've been a more competent paralegal intern."
Cottrell enjoyed her position at a local real estate law office, and she described how important it was to be diligent to familiarize herself with the new area of law. While COD does offer a Real Estate elective class most spring semesters, Cottrell learned on the job and hopes to continue doing so in future paralegal positions.
"I definitely want to get some experience working as a paralegal now that I am finished with my paralegal classes," Cottrell said. "I think this will allow me to get my foot in the door at a law firm and see if I want to continue my education and career in the legal field."
The Practicum class was led by two professors, one of whom is Linda Jenkins. She is a long-time COD professor and the advisor of the Paralegal Club and LEX Honors Society. With many decades of experience as a bankruptcy attorney, Jenkins provides students with valuable advice for their internships.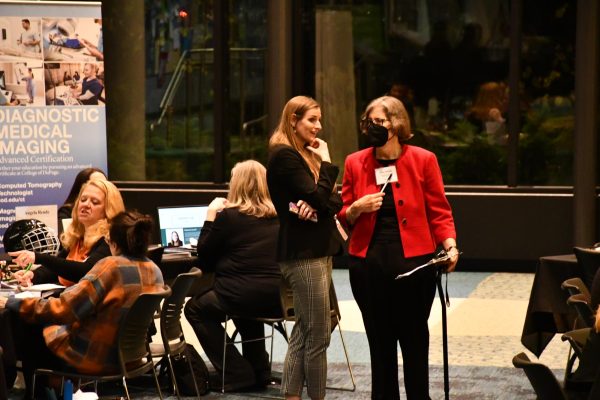 "Take advantage of the tremendous learning opportunity you experience as you complete an internship during our Practicum class," Jenkins said. "Your internship gives you practical experience in the legal field while you work under the direct supervision of an attorney and provides real legal experience that you can include on your resume when you start job hunting after graduation."
Zaira Gallardo is a current paralegal student who attended the Paralegal Expo to celebrate the graduation of her friends and learn about their unique paralegal internships. Gallardo is currently the secretary of the student-run Paralegal Club, which provides her with unique learning opportunities and fun social interactions that she encourages new students to join.
"My advice to incoming paralegal students is to get involved as much as possible," Gallardo said. "Our Paralegal Club community is like a small family. Whenever you are struggling with classes or personal issues, they are there for you! If you don't feel comfortable opening up to professors, reach out to club members or officers. They have been some of the most welcoming and kind-hearted people I have encountered at COD."
The Paralegal Club hosts weekly meetings that feature guest speakers who are experts in the legal field, like DuPage County judges, attorneys, paralegals, and alumni.
Cottrell also gave advice to incoming students, encouraging them to socialize with classmates and professors alike. Many students are on a first-name basis with professors, and the program offers many social opportunities and alumni events.
"The professors are absolutely wonderful and want nothing more than to see you succeed," Cottrell said. "Take your time learning the material and make friends! This program is so tight-knit, and I have made some wonderful friends because of the classes I've taken here."
She also mentioned her favorite classes that taught her important skills in preparation for the internship, especially her class with instructor Elizabeth "Liz" McGuan.
"I loved the initial Intro to Paralegal Studies class with Liz, as well as the Advanced Legal Research and Writing class with Suzi," Cottrell said. "The Intro class really sparked my interest in becoming a paralegal because Liz was so passionate about the program. In the Advanced Legal Research and Writing class, I loved working on the legal and trial memorandums. They were definitely the hardest assignments I had ever worked on, but they pushed me past what I thought I was capable of, and I was proud of myself with the final result."
Jenkins encouraged prospective students to join the Paralegal Studies program and extracurriculars to open up unique opportunities on their career pathways.
"Many local attorneys recognize the value of your involvement in these clubs," Jenkins said. "All students should work hard in their classes and learn everything they can, but the best college experience happens for those who also get involved in campus activities." 
For more information about the Paralegal Studies program and their student club, go to their website at https://sites.google.com/site/codparalegalclub/.