Media Lab gives room for creativity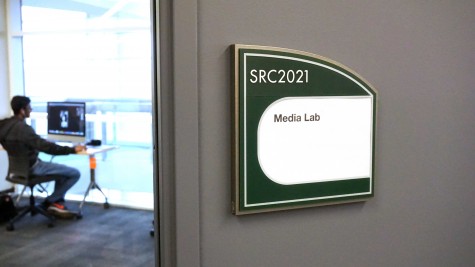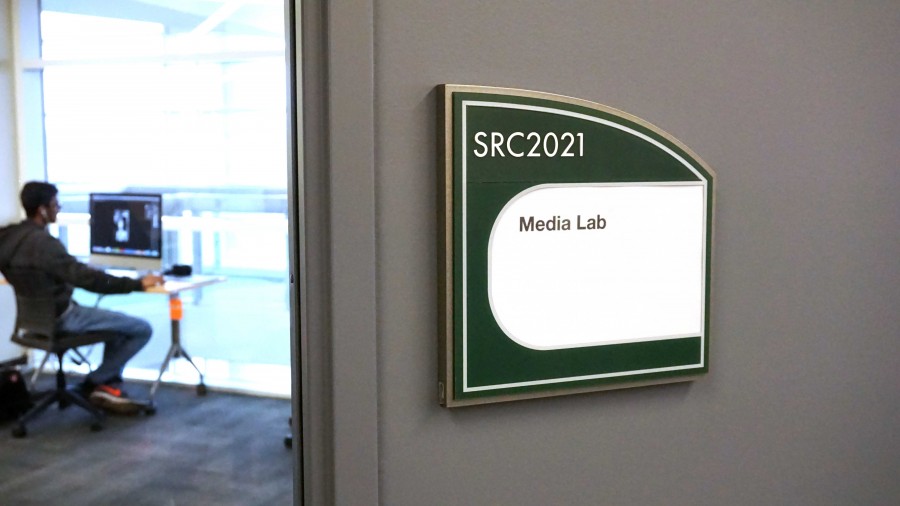 The new Media Lab, located on the College of DuPage library's lower level, has opened its doors, ready for students to open their minds creatively in design, art, coding, audio and video. With seemingly unlimited programs, students can now take their creative instincts to the next level, whether testing out future career options or using the software to finish a class project.
Colin Koteles, library Web services manager, believes the lab is a valuable asset to every kind of student, especially those who aren't familiar with design.
"Students these days need to produce media: it's not just design students," said Koteles. "We wanted to create a place where all students could experiment with the programs and have the tools that they might need."
The lab provides equipment for every kind of creative project. Mac Pro Stations, iMac work stations and scanners can be found for any kind of computer editing or design software a student might need.
For a digital canvas, students can use one of the lab's Wacom Intuos Pen and Touch Mediums. Audio fans may find the lab's Avid MBoxes useful for recording and mixing performances. Students with an interest in photography can even find and EOS Rebel T5i complete with multiple lenses, a microphone and tripod. The lab's resources seem to be limitless, so every project, no matter how large, will be able to be completed successfully.
Another added bonus: the library lab staff is always on hand and able to help with projects. Even if you don't know exactly what you are doing, there will be someone to help you along so your visual or audio presentation comes out just how you imagined it.
Students can go about using the media lab just like they would when renting out a library study room. The only thing users need is a valid COD library card. As always, availability is first-come, first-serve. Each workstation is assigned in three-hour stretches, but can be renewed if availability allows. Certain resources, like imaging stations and video editing suites, allow for more than one person to be using the station at a time.
Proper library etiquette applies in the lab. No food and drink are allowed at the stations. Lab users are expected to use headphones when editing audio or simply listening to music. The library also recommends users to bring a flash drive or another way of saving work. These are public resources, so you won't have access to your project after time is up.
The lab is open 9 a.m. to 4:30 p.m. on weekdays, and from 12 p.m. to 4:30 p.m on Saturdays.
Media Lab Software
Graphics:
InDesign, Photoshop, Illustrator, Lightroom, Blender, Wacom Drawing Tablets, Makerwave for Digitizer
Video Editing:
Premiere Pro, After Effects, Flash, SpeedGrade, Handbrake, VLC, Prelude
Audio:
Audition, Audacity, GarageBand, Avid MBox/ProTools, Oxygen 49 MIDI controller
Web Design:
Dreamweaver, Muse, Edge Animate, Edge Code, Edge Reflow, Scout, Flash Builder,Fireworks
Encoding:
InCopy, Bridge, Adobe Media Encoder