Lenier Gayton on campus police interaction: 'They see us as threats and not students'
The large, open area of tables and chairs outside Starbucks has a history of noise complaints, according to College of DuPage Police Chief Joseph Mullin. Now COD administration has to figure out the best way to handle the situation.
The involvement of the administration comes after a litany of "demeaning" and "degrading" verbal warnings from officers to black students who use the space during breaks from classes.
On March 1, the Black Student Alliance (BSA) requested a public meeting with the police department to find a way forward.
"This is a space that's not well defined," said Mullin. "The first thing that we all need to do is to figure out what it is for. In that way, we share the same expectations."
COD Police Department must respond to calls at any time of the day; complaints about noise are no exception.
The SSC atrium is one of the busiest and noisiest places on campus. There is a Campus Central, a one-stop shop where students and community members receive assistance from knowledgeable staff. On both sides of the atrium are offices for key departments under Student Affairs.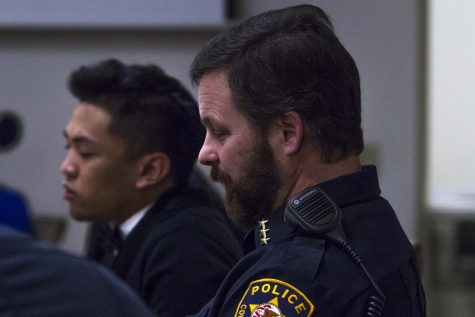 But the presence of students within the same space where seats and tables are set up appears to be a problem.
"The officers are interacting with us like we are threats and not students," said Lenier Gayton, a student who had a recent interaction about noise complaints with an officer.
Speaking about his recent interaction with a campus police officer, Gayton said he cannot understand why the officer who showed up sounded so frustrated that he even referred to his group as "high school students." According to him, officers aren't telling the same group of students to keep quiet every time since they all have different class schedules and leisure time.
Another student, Mike Carmona, corroborated Gayton's account.
"We felt the officer who showed up was aggressive," said Carmona. "When we get out of class, we want to sit down with our friends and families; to be honest, our volume was reasonable."
In another incident involving Tanika Moore, an officer threatened her with trespassing charges simply because she did not have her COD identification card with her.
"The officer referred to me as a 'dude,''' said Moore. "I walked out of it because I never wanted any confrontation with a police officer."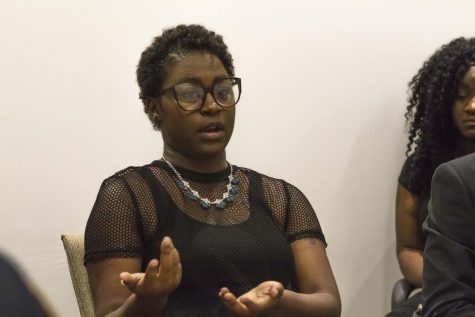 This was all happening when her friend was experiencing a panic attack.
"The officers were too focused on us and never saw that she was having a breakdown," added Moore.
The students didn't mince words, and when it was time for the police department to explain its actions, Mullin offered an apology and lauded the students for organizing the discussion.
"I don't want to say we did everything right," said Mullin. "We screw up; we are people. If we didn't do our best work that day, and it affected you, I do apologize for it."
At COD, officers receiving a noise complaint will respond to the area and attempt to determine what is occurring and then seek to address the complaint by working with individuals to set the volume to the expected, acceptable level.  As the source of the noise and environmental expectations vary, so does the approach of officers, but the goal is always to obtain voluntary compliance with the rules, according to the police department.
Finding a common ground was the purpose of the discussion that included members of the BSA, the office for diversity and inclusion and the police department.
"The genesis of this conversation may have its place in the atrium, but I wanted to get everyone together so that we can have a  realistic understanding of who we all are and not make a determination on an incident and a place," said David Swope, manager of the center for diversity and inclusion.
All parties agreed to bring together policymakers and other users of the space to set some expectations about the atrium.
Changes: "Student Life" in the original article was inaccurate. The writer meant "Student Affairs."