Killer Klassix: Blu And Exile – Below The Heavens
Blu's debut is a spirited demonstration of his youth and the reflection of growing pains of becoming an adult dealing with the stress of success.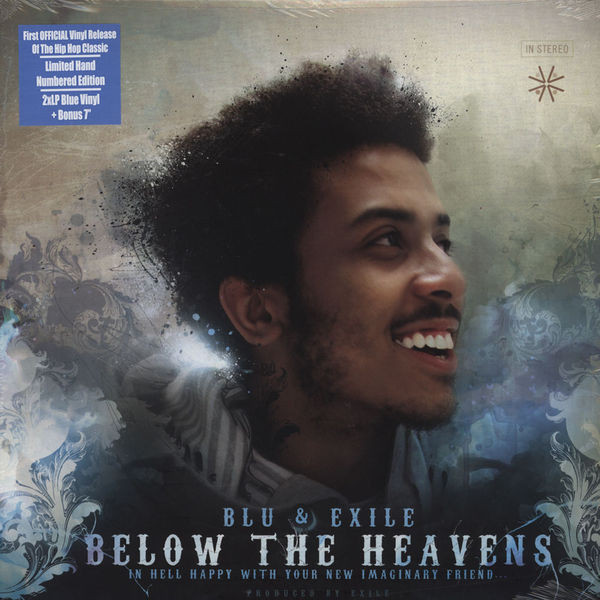 While originally discussing the desire to cover more than just the emerging alternative scene, fellow staff writer Devin Oommen and I spoke about how to perfectly cover hip-hop and rap that is more narrative driven as opposed to mainstream or melodic/popular rap.  While Bone Thugs-n-Harmony was very melodic but foundational to much of the popular rap that is popular these days, he struggled to find something that acted as his perpetually youthful album.  
One cold November night I received a message simply stating "review this."  To Oommen, Blu and Exile's "Below The Heavens" is his exploration of youth. 
"Growing up as a teenager, many times I felt like an outsider," he stated. "The music I chose to listen to followed a need to embrace that feeling. When I was around 16 I was really into underground rappers [who] were making music using more complex rhyme schemes than mainstream artists, and the content included things that were not necessarily popular to rap about at the time. 
"Growing up I didn't have the most luxurious life," he continued. "For me the album [Blu and Exile's – Below The Heavens] was relief to a life that wasn't always the easiest to deal with. Dealing with mental health issues and working jobs that I hated, it seemed like a lot of people around me had a lot more than me, or had a lot more going for them than I did. Blu's music was a way for me to have something that others didn't. Every time Blu's lyrics mentioned him grinding and recording or working in blue collar jobs until he "makes it" I was able to put myself in his shoes because I felt like I was working jobs to get by until I figured out how to make it."   
"Below The Heavens" is the debut effort by Hip-Hop artist Blu and his producer, a then up-and-coming hip hop producer Exile. The album is a nostalgic look back at Blu's upbringing with Exile.  Blu's version of cheap therapy using life experience, failure, struggles with faith and himself as material to forge a debut effort exhibiting not only what life has taught him, but how it shifted his existential focus. 
"My World is… (Below The Heavens)" is the introductory track on the album and quickly establishes the life of Blu. In a beautifully crafted narrative; Blu tells the story of where he comes from and who he was as a child and where he came from. Exile's instrumental for the track highlights a classic, industrial hip-hop sample that shouts Blu's name while Blu takes the listener to when he was growing up, writing:"I skipped class in school a few times but I ain't dumb, n*gga/Pitched grass too, a few times, but I don't pump, n*gga/Never was the fastest in class/But if you put me on the track, I was guaranteed to run n*ggas." 
"The Narrow Path" is a track that focuses on Blu's dedication to the "grind" that led him to success. Exile's sample is once again industrial, but ushers Blu's craft as a wordsmith and enabled him to experiment with some sung vocals. The Path is an accessible metaphor meant for fans to understand his approach not only to the adversity met in his career, but the adversity in life. Exile's sample is an industrial jazz-rooted beat, with loose drums allowing Blu to structure his message both musically and in alignment with his ideas. Moreover; Blu subtly refers to his loss of faith in himself, but alluding to a potential dissolution in his faith.  That being said, while Blu toes the line to speak out against his faith, he only transitions before he gets anywhere worth noting.  Blu pens: "I'm tryna tell my folks that flowing ain't easy/Traveling down this yellow brick road until it frees me/I need a pen, I need a pad, I need a place to go/To get this shit lifted off of my soul."  Though as a warning, the track exhibits the scars taken from Blu's experiences as a means to uplift his listeners to "grind" for their dreams, exhibiting the scars not as means of past pain, but as trophies.    
"So(ul) Amazin (Steel Blazin)" is a no regrets track. Using the metaphor of a soul, Blu takes a Cesarean approach to how he lives life, not only coming and seeing, but hopeful to conquer through means of fresh beats and relative rhymes. Blu conveys a subjective approach to life, though he highlights how he has biases that are degradative of his personal prejudices. Exile's sample for the track is syncopated, combining modern lofi melodies and a large, bass-driven beat that solidifies the material covered by the track. Using the bass as way to exhibit time's large ramifications, when his time comes, Blu's: "Tongue cursing 'til I must become one with the Earth/Heaven and Hell I conquer, whichever comes first/Known to rebel, my soul a la mode, uh/My soul a la mode, the soul provider." 
"In Remembrance of me" is a track penned from the perspective of Blu's hypothetical son, born out of wedlock. Blu ponders whether his impact on the craft he loves or the life he's established for himself will remain long after he is gone. Exile's sample is sensual so as to mirror the nostalgic reflection of the track adding choral harmonies led by R&B style beats. Balancing existential pontification and artistic longevity, the track is his personal justification for choosing to be an artist and the person he is. Blu's chorus states: "Remind me why I'm rappin'/And right before he answered I remembered my passion/In the past, when I was scribblin' in my tablet/To box out my mom and dad scrappin'/To help me when my grandmother passed/Plus the many times when I was homeless/And the times when I was broke/And this music made a way when I was hopeless/He told me to remember the rain, it'll diminish the pain/And he told me not to ask him again, 'cause I know…"
Blu's debut is exactly that, a debut wrapped in the experiences of his youth and the growing pains of not only becoming an adult, but dealing with the "Faustian" deal of success. In the realm of hip-hop, the poetics that narrate a great story are not only balanced with the relativity of experience but the reflection of wisdom gained, the exhibition of a philosophy.  Even with some of Blu's struggles with faith (in himself as well as God) there was much left to be desired, and it almost seemed as though he was not looking to be critical of faith. 
4/5