Inside scoop on COD's very own recording studio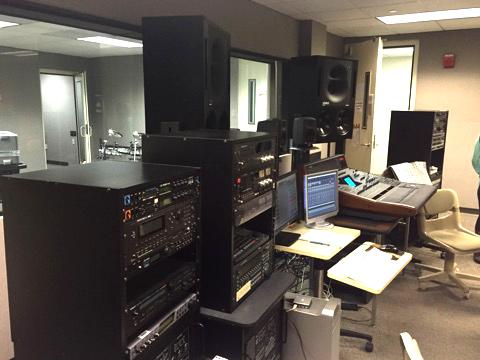 College of DuPage's recording studio is a metal box, in its simplest form. Surrounding the room are eight-inch thick walls stuffed with rock wall and fiberglass, forming the room's essential structure. The floors are floated, meaning there is space added in between to ensure the whole space is completely isolated from any outside noise. A quarter of a million dollars was invested into the construction of the studio to ensure optimal learning opportunities for students.  
Music Professor Ken Paoli gave a tour of the recording studio through the MAC's Music Fridays @ Noon program on Sept 20. Paoli, a COD professor since the early 90's, opened up about the technicalities of the studio itself, as well as what it takes to make it in the recording business.
The recording studio, completely isolated from the inside out, is a professional-quality resource for students and outside artists alike.
"This room is an actual, honest-to-God professional level recording studio; you can't get these results from your laptop at home," Paoli advises.
The control room, equipped with a console, 600 collective pounds of speakers, and a plethora of computers equipped with top notch software, gives an undeniable aura of technological mastery. The main recording booth is large enough for a whole ensemble, but contains 3 smaller isolated booths for additional recording precision. The isolated rooms are floated as well. Typically, loud instruments such as drums and quiet instruments and vocals are recorded in them.
"That's really what it comes down to with live recording; isolate all of instruments on single tracks with as little bleeding across from one track to the next," Paoli continued. The editing, mixing, and mastering process then take place to reshape the raw tracks into balanced musical products. After the whole process has been completed, there will have been an estimated three to five hours of work, per minute of music, invested.
"It's definitely a process. But it's well worth it. I'll put it out there to anyone that's interested, that it's worth it, if you're really into it and passionate," Anthony Perry, a musician and producer who continues to work closely with Paoli even after his time at COD, encourages. "Even if I'm just in here jamming on my own, and not even recording, it's such a special thing for me. This is like the secret area that no one knows about in the school."
The tour was given to help promote COD's Audio Production Certificate program and Associate's Degree in Music Business program. Recording Techniques classes I & II are a part of both programs, which give students the most experience in the studio. Recording I covers topics such as MIDI (Musical Instrument Digital Interface), microphone theory, the console, and effect processing. Recording II primarily focuses on digital recording, studio construction, and things relating to multimedia such as synchronization.