Innocence in its purest form
Photo exhibition puts children with developmental disabilities in the spotlight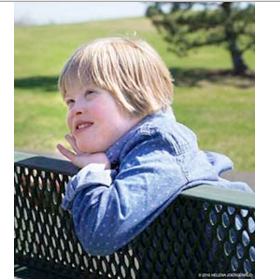 Emma LaMorte was born with Down's Syndrome and a major heart defect, resulting in 4 heart surgeries before the tender age of three. After being placed on the Autistic Spectrum, Emma's family sought out therapy and services so she could live the best life possible. Valerie LaMorte, Emma's mother, found that  Easter Seals DuPage & Fox Valley was the perfect fit, as Emma has progressed greatly throughout the years. When the family was approached about Emma participating in the 16th annual Photography Exhibition, they jumped at the chance, as it has been something they have held near and dear since Emma started therapy at Easter Seals.
"Everybody who walks in there knows and remembers the photos; they just leave such an impression on you," LaMorte explains.  "They've made quite an impression on Emma. She absolutely loves those photos. Every visit, it's part of our ritual to make sure she sees all her favorites." Now, Emma can serve as inspiration and joy for other children as they walk through the halls of Easter Seals.
An ongoing collaboration between the COD Photography Department and Easter Seals DuPage & Fox Valley, the Photography Exhibition gives photography students the opportunity to interact with the children who receive therapy at Easter Seals, exploring their personalities and daily lives in order to capture a photo of the joy and inspiration they encompass. The photos are then given as gifts to Easter Seals DuPage & Fox Valley, and are displayed throughout their facilities. This year they are adding 24 new photos to their collection, taken by the 17 COD student photographers.
Emma was showcased through a video project as well as a photo. COD photography student Helena Joergenrund worked closely with Emma and her family to produce an accurate and inspiring depiction of their everyday life. Her video shows Emma playing with her brother Luke, working with her therapists at Easter Seals,  giggling with her family, and going about her daily routine.
"It was wonderful working with Emma from the very beginning," Joergenrund said. A teacher and mother of three herself, Joergenrund holds children very close to her heart and was excited to incorporate Emma into her photography project.
Emma's occupational therapist, Carrie Booth explained how Joergenrund seamlessly accomplished her photo and video project.
"She did a great job of blending in and capturing Emma in her true, beautiful form," Booth said. "She really captured what our sessions are like, and didn't try to change or alter anything, which is fantastic."
Dr. Jean Kartje, COD's vice president of Academic Affairs greeted the audience before the exhibition with gratitude for the participating students and the children they worked with.
"I think you'll all agree by the end of the evening, that our students have achieved in capturing not the outward appearance of these bright young people, but their inward significance," Kartje said to the guests in the Belushi Performance Hall.
Her prediction rang true- the unveiling of the photos were met with cheerful applause and dazzled eyes from the children and their proud families. The photos showed many bright faces that exhibit contemplation, exaltation, determination and revelation.