From Phi Theta Kappa Chapter President to International Officer Candidate: Luis Medina
Meet Luis Medina, the COD student running for one of Phi Theta Kappa's highest leadership positions.
COD student Luis Medina is a candidate in Phi Theta Kappa Honor Society's international officer election. If elected, he'll become the second COD student to hold one of the society's highest leadership positions.
Phi Theta Kappa is an international honor society for college students. Its international officer team includes a president and four vice presidents who each represent a division, or region.
Medina is one of three candidates running for the office that represents the Midwest region, Division III vice president.
After finding out opportunities to serve in higher offices were available, he decided to enter the race.
"I'm always kind of pushing myself to do something bigger. To try to achieve things that I don't initially feel like I'm able to," said Medina.
Medina is serving his second term as president of COD's PTK chapter. He credits his involvement with the group as being key to the development of his leadership skills.
"Three years of being a member of Phi Theta Kappa has really shown me a lot about this organization and how much they value student growth," he said.
The process to get elected involves multiple rounds. To make it past the first round, candidates must give a speech and answer a five-question interview with a current international officer. Video of the interview is posted on the PTK website, and the top four vote-getting candidates make it to a second and third round that happen at the society's annual conference, Catalyst, where delegates from chapters across the country cast their votes. The preliminary elections for the first round are on March 15. PTK's annual Catalyst conference will be held from April 20-23.
Medina's first term as president of COD's chapter included the unique challenge of re-engaging students in the first semester of in-person learning after the COVID-19 lockdown.
"I had to basically start from scratch," said Medina. His position in the Chaparral Activities Board gave him the opportunity to plan campus events like movie nights and club fairs. These events gave club officers opportunities to meet students in a more casual setting.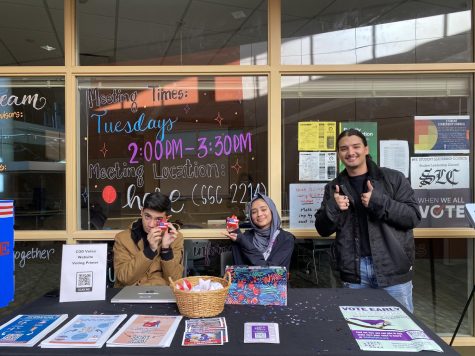 Medina's involvement in student organizations allowed him to push himself out of his comfort zone.
"I had a lot of anxiety in me that I wanted to get rid of, and the way I did that was to get involved," said Medina.
At COD, Medina is involved with Latinos Unidos, the Diversity Equity and Inclusion student mentoring program, and he is the president and operations manager of the Chapparral Activities Board.
International officers receive scholarships and represent the group at national and regional events. Candidates that want to run must receive written approval of their college president and chapter adviser.
Before deciding to pursue a degree in Psychology, he earned his culinary arts degree at COD. In his free time, he makes music, YouTube videos and Instagram reels.
Originally from Berkeley, IL, Medina moved to Addison when he was a teenager. Being a new student in an environment where he didn't know anyone was jarring.
"I lived my whole childhood with the same people," said Medina. "I didn't really need to make friends."
As a student at Addison Trail High School, Medina became involved in service-oriented groups like Key Club.
"It really showed me a lot about volunteering and the importance of helping those in your community without necessarily being recognized for it," said Medina. Medina was also on the drumline in Addison Trail High School's marching band.
Before entering this election, Medina took a similar chance in his senior year of high school when he ran for prom king and won.
"It was an achievement that I didn't think was possible," said Medina. "We wanted to test the waters of what it means to be popular, and we decided to just go for it."
Medina said that in the Phi Theta Kappa election candidates support each others' growth.
"These people are just like me. They might be a little bit nervous, but it's something that they're passionate about. They really believe in the organization."