Eddie Moore: Kumbaya approach won't solve diversity problems
The 21st Century calls for its own definition of diversity.
Diversity is like the Apple IIc computer. It is good to have around to know where modern Apple computers came from. But it serves no good in our age of ever-changing technologies.
Accepting the definition of diversity from what we were told it is from our parents, grandparents, and society, in general, won't suffice in this day and age.  
The man behind this analogy is Eddie Moore.
Moore, speaking to an interested and expectant crowd on Monday at the dawn of the college's celebration of diversity and inclusion didn't mince his words when he called for a revisit to some of the conversations around diversity.
Moore spoke on the theme: "America is Changing: Are You ready? The Challenges of Diversity, Power/Privilege, and Leadership in a 21st Century America."
"What we were taught about diversity could be completely erroneous today," said Moore.
He alluded to an increasingly diverse America where diversity isn't just limited to "black and white people," but people of different genders, socioeconomic backgrounds and much more.
America in the 21st Century must deal with the issue of gender-neutral bathrooms, gender identities, and sexual orientation. Young people must have some skills set around these issues to just go about their business.
This is what he called "cultural competency." It is needed by employers in the 21st Century.
Adapting to this new wave of change comes along with "toughness."
"You don't solve tough problems if you don't practice tough," said Moore. "Often times with diversity, we just do kumbaya stuff. When something goes down and need a really tough space to have a conversation, people are freaking out, running into their segregated corners and we never have the conversation."
His courageous bingo game is one way to practice toughness. The game asks some thought-provoking questions: "Are you afraid of black people? Do you believe everyone can be racist?"
Moore ended his conversation by admonishing everyone present to be ready for this change.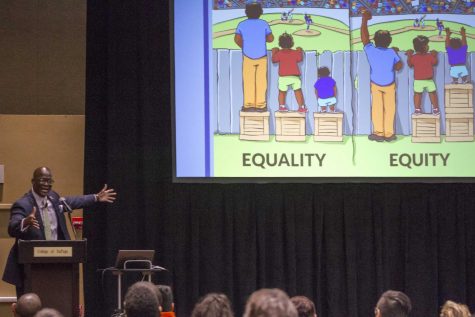 Moore currently serves as the director of The Privilege Institute (TPI) and The National White Privilege Conference (WPC). The initiative engages people in research, education, action, and leadership through workshops, conferences, publications and collaborative partnerships and relationships.  He is also the co-editor of Everyday White People Confront Racial and Social Injustice: 15 Stories and, The White Women's Guide to Teaching Black Males.
This event was organized by the College of DuPage Center for Student Diversity and Inclusion. The CSDI is the college's way of committing itself to improving the cultural environment for students.
Email news@cod.edu if you are interested in listening to a full version of Moore's diversity and inclusion speech.