Do you feel the Paris attacks purposely overshadow other world tragedies?
COD takes a moment of silence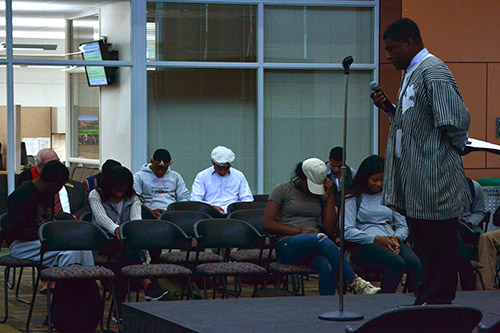 As Paris mourned the loss of its 129 civilians in the terrorist attacks late Friday night, the rest of the world followed. In the hours after the attacks, support erupted: tech companies alike Skype, Airbnb, Facebook, and among others, opened their services to aid Paris victims through the weekend for free. Social media sites, such as YouTube and Tumblr, have also shown their support by exhibiting the grieving country's flag.
To start off it's Global Education week, the College of DuPage held a moment of silence to remember world sufferers of violence and persecution. If you would like to know more about specified areas of this topic, Global Education week runs until Friday, with it's schedule of events below.
Global Education week schedule:
Nov 16 (Mon) – Global Ed Week Opening Ceremony, 1-2pm in SSC Atrium – Join us for a moment of silence as we remember all people, around the world, who suffer from violence and persecution.
Nov 16 (Mon) – Raye Makhfi/Secret Ballot (Satirical comedy about elections in Iran, with English subtitles), 2-4:30 in SSC 3245
Nov 17 (Tues) – Oxfam America Hunger Banquet (Reservations through Student Leadership Council ChapLife), 5-7:00pm in SSC 3245
Nov 18 (Wed) – Global Education Fair, 10 to 1pm in SSC Atrium
Nov 18 (Wed) – "Trekking and Culture in Bhutan, Nepal and Tibet" with COD Professor Carol Riphenburg, 1-2pm in SSC 2201
Nov 18 (Wed) – Extranjeras/Foreign Women (Documentary about immigration in Spain, with English subtitles), 6-7:30pm in SSC 3245
Nov 19 (Thurs) – "How and Why to Travel Around  the World", Student Leadership Council hosts guest speaker Andy Stoll, 2-3pm in SSC 3245
Nov 19 (Thurs) – The Black Panthers: Vanguard of the Revolution (Documentary film, two viewings), 1pm and 7pm in HSC 1234