Courier Mock Draft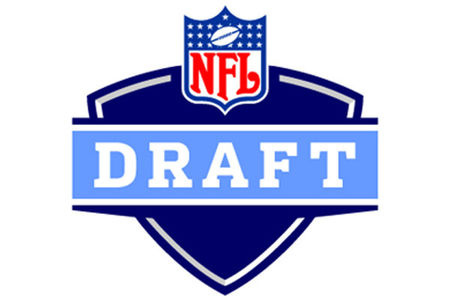 The NFL Draft is upon us and the Courier sports presents it's lone mock draft of the season.
1 Cleveland Browns- Myles Garrett Edge, Texas A&M
No fluff here the Browns get the best player in the draft to help solidify their pass rush for years to come
2 San Fransisco 49er's- Solomon Thomas DE, Stanford
John Lynch having just signed a six year deal has some time to play with and not being the strongest draft at quarterback gives him a chance to strengthen the roster around the quarterback
3 Chicago Bears- Jamal Adams S, LSU
The Chicago Bears have struggled for years to find the right guy at safety post Mike Brown. A plug and play guy like Adams gives the Bears a future All-Pro
4 Jacksonville Jaguars- Leonard Fournette RB, LSU
The draft goes back to back on LSU Tigers. Fournette gives the Jaguars a physical presence to really see if Bortles can run the offense
5 Tennessee Titans- OJ Howard TE, Alabama
The best friend of a young quarterback is a reliable tight end and getting Marcus Mariota OJ Howard to throw to is a big plus to a Tennessee team on the rise
6 New York Jets- Mitch Trubisky QB, North Carolina
We have our first quarterback taken and the Jets have a guy in Trubisky who will need some time but could find a nice place in the league with his talent
7 Los Angeles Chargers- Mike Williams WR, Clemson
With the health of Keenan Allen a common question mark, the Chargers get a big and physical playmaker to help Philip Rivers out
8 Carolina Panthers- Christian McCaffery RB, Stanford
Cam Newton took a beating last year . Carolina shouldn't put much further thought into this pick, protect your franchise and pick the most versatile player in the draft
9 Cincinati Bengals- Reuben Foster LB, Alabama
The Bengals get better on defense with a unit that has struggled to find a linebacker to pair with Vontez Burfict
10 Buffalo Bills- Johnathan Allen DE, Alabama
The Bills go defensive line to pair with Lorenzo Alexander and bolster the pass rush
11 New Orleans Saints- Marshon Lattimore CB, Ohio State
The Saints have struggled defensively for years especially in disrupting the passing game. Having a long corner is a start to getting Drew Brees some help
12 Cleveland Browns- Patrick Mahomes QB, Texas Tech
With Trubisky off the board, the Browns pick the kid with the liveliest arm in the draft. His ability to create and make tough throws is intriguing for Hue Jackson
13 Arizona Cardinals- Corey Davis WR, Western Michigan
Bruce Arians has a Super Bowl ready roster and getting more weapons for Carson Palmer is paramount. Picking up the All American would be nice to pair with Larry Fitzgerald
14 Philadelphia Eagles- John Ross WR, Washington
Having Alshon Jeffery on a 1-year deal, getting a player like John Ross gives this roster a playmaker that over the past couple of years have been devoid of them
15 Indianapolis Colts- Hassan Riddick LB, Temple
The Colts finally get some defensive help with the drafts quickest riser. Riddick gives the Colts a good linebacker on downs 1 and 2 then a great pass rusher in their sub packages
16 Baltimore Ravens- David Njoku TE, Miami
Ozzie Newsome knows what it takes to be a great tight end and player with Njoku's talent should get Joe Flacco pounding the table
17 Washington Redskins- TJ Watt Edge, Wisconsin
Perhaps the one player experts can't get a pulse on, is a good fit for the Redskins who are looking to improve a pass rush that has Ryan Kerrigan on board
18 Tennessee Titans- Malik Hooker S, Ohio State
The Titans continue to build on an already solid draft with the best cover safety in the draft.
19 Tampa Bay Bucaneers- Dalvin Cook RB, Florida State
Giving Jameis Winston the home run threat of Dalvin Cook in the backfield could help give them the firepower to give Atlanta fits in the NFC South
20 Denver Broncos- Cam Robinson OT, Alabama
With their future franchise quarterback already on the roster, John Elway buys the insurance plan to his expensive mortgage with the most physically gifted pass protector in the draft
21 Detroit Lions- Adoree Jackson CB, USC
The Lions look to improve defensively and get the added bonus of getting a generational return talent. Jackson holds the NCAA record of 8 return touchdowns
22 Miami Dolphins- Jordan Willis Edge, Kansas State
Jordan Willis paired with Cameron Wake is a terror for AFC East teams in the coming years
23 New York Giants- Ryan Ramczyk OT, Wisconsin
The Giants are a better football team when Eli Manning is a able to stay upright. Ramczyk is a plug and play tackle that'll be a blessing for Eli
24 Oakland Raiders- Garett Boles OT, Utah
Donald Penn, 34, is nearing the end of a solid career. The Raiders look to get their next pass protector in Boles, who can play on the right until the eventual retirement of Penn
25 Houston Texans- Deshaun Watson QB, Clemson
Bill O'Brien doesn't have much time to wait on his roster of quarterbacks to develop. The Texans get the most dynamic quarterback in the draft in Watson
26 Seattle Seahawks- Forrest Lamp OG, Western Kentucky
You can't put a price on protecting your quarterback and getting a versatile lineman in Lamp gives you more insurance for Russell Wilson
27 Kansas City Chiefs- Joe Mixon RB, Oklahoma
The troubled back finds a home in Kansas City with Andy Reid, a coach who historically has done wonders for players with baggage.
28 Dallas Cowboys- Quincy Wilson CB, Florida
Dallas desperately needs help on defense if they hope to make a legitimate Super Bowl run. Helping out the pass defense with long corner in Wilson is a start
29 Green Bay Packers- Alvin Kamara RB, Tennessee
Having to start Ty Montgomery, a wide receiver, at running back is something I'm sure Mike McCarthey would like to avoid this season. Getting a talented back in Kamara for Rodgers should help establish some balance in Green Bay again
30 Pittsburgh Steelers- Jabrill Peppers S, Michigan
Perhaps the most polarizing player in the draft in terms of film, Peppers brings versatility and toughness to the back end of a Pittsburgh defense that has struggled in recent years.
31 Atlanta Falcons- Derek Barnett Edge, Tennessee
The Falcons finally get their edge rusher that they've coveted for so many years. Barnett, a four year starter in the SEC, is a versatile lineman able to stop the run and rush the passer. He broke the great Reggie White's sack record at Tennessee.
32 New Orleans Saints- Jarrad Davis LB, Florida
Once again, New Orleans goes defense trying to get more help for Brees. Davis gives them a tough linebacker that can cover from sideline to sideline and add a leadership element that they've been sorely lacking since Vilma left.