Concert Review
Kaleo and Firekid rock the Bottom Lounge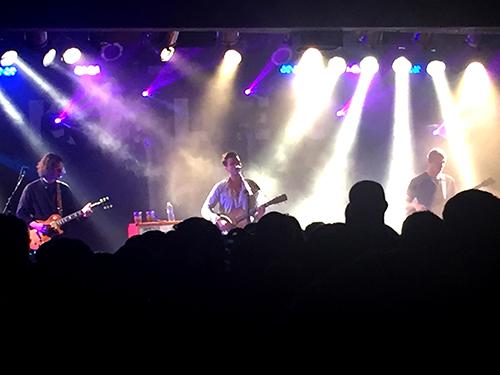 Middle-of-the-week concerts are as foreign to me as downtown Chicago itself, and for this concert, I got a night of both. The shivering line of almost-adults and indie experts that led into the Bottom Lounge was an excited one, with talkative groups and selfie moments galore as we shuffled inside, excited for the night ahead. And what a night it was. "Sold Out" signs bombarded the front doors of the venue, on-site tickets being given out at a rate so quickly that the space went from half-full to almost packed-like-sardines within a span of barely half an hour.
Nashville-based band Firekid performed as the opening act: a dynamic electric/bluegrass/folk influenced duo whose music I enjoyed more live than recorded. It wasn't what I expected; the performance didn't feel like an opening act to begin with. Lead singer Dillion Hodges loosened up the crowd practically instantaneously with his seemingly effortless charm. He included the audience in tracks like "Getaway Car" and "Gospel," which I found were more lively and exciting to listen to live, with their southern and electric touches that weren't in the recorded versions. Remixes with special effects using a Nintendo DS was an unexpected but welcome surprise, one that was thoroughly enjoyed by the house-party-sized crowd.
After a half-hour intermission that introduced more people into the small space, the Icelandic indie folk (but actually rock/blues/country/alternative influenced) quartet Kaleo opened with their blood-pumping hit "No Good," giving the crowd a nice energy boost to restart the night.
Kaleo had a nice mix of popular and lesser known songs, starting along the lines of alternative, with "I Can't Go On Without You," leading into some acoustic folk with tracks like popular "All The Pretty Girls" and "I Walk on Water," ending in a long build of heavy rock with "Fool," "Pretty Boy Floyd" and encore "Rock 'n' Roller."
Unfortunately, Kaleo wasn't the kind of band who worked the crowd in-between songs (saying a little more than thank you so much and happy to be in Chicago), but the crowd didn't seem to mind. Some chattered away and others sang along with the music, while a few bounced here and there, and others waved their hands around, but there wasn't much in crowd energy other than the vibrations rattling through our bones with every chord. The lack of conversation-esque interaction didn't necessarily dull my experience, but it felt like something was lacking after the comfortable atmosphere with Firekid.
Closing with "Way Down We Go," the experience felt practically like a sing-along as voices harmonized and speakers thumped, whistles and applause erupting after, leading the group into one last deafening and electrifying encore.
Kaleo's range of talent and Firekid's impressive remixes and live sound made the night one to remember. My advice? Make sure to keep an eye out for both of these artists rising in the charts, because with feel-good lyrics and groovy chords, both artists are forces to be reckoned with.