COD Softball Triumphs Over Wolves to Clinch Top Seed
The COD softball team took two wins over Joliet Junior College to extend their win streak and clinch the top seed in the Great Lakes District tournament.
The College of DuPage softball team radiated confidence going into their second doubleheader against Joliet Junior College of the season, as they swept the Wolves in their last meeting. Tuesday afternoon was no different for the Chaparrals, as their consistent pitching and steady hits put them ahead in both games. The Chaparrals took two more wins off of the Wolves, winning the first game 10-7 and the second game 11-5, raising their record to 22-7 and extending their win streak to eight.
With these two wins, the Chaparrals clinched the top seed in the NJCAA DIII Great Lakes District tournament on May 12 and 13 at Sarkisian Park.
"We're feeling pretty good," assistant softball coach Jaime Smith said. "Obviously you have an advantage going into the tournament. If we win two, we're in the championship game; less games, more success."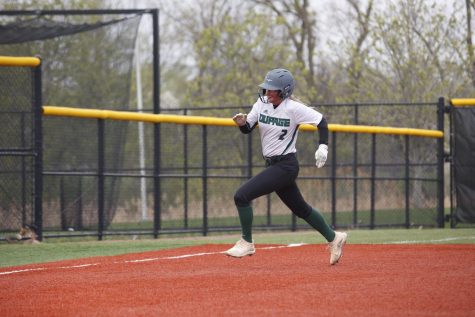 Freshman infielder Lindsey Onnezi recorded three hits and struck out once in eight at-bats through both games. She also scored four runs and collected three RBIs.
"We came out a lot more confident than [JJC] did," Onnezi said. "They didn't seem like they really wanted [to win]. We really [wanted to win] from the start. Just looking at them, they didn't seem like they cared to even be here."
Sophomore pitcher Amber Dasenbrock pitched through the first game and threw four strikeouts, including her 100th strikeout of the season. She allowed 12 hits and seven runs. While hitting, Dasenbrock recorded three hits and struck out twice in eight collective at-bats. She scored two runs and collected three RBIs.
"Before this, I wanted to see where I was at, and I noticed that I was at 98 [strikeouts]," Dasenbrock said. "I said my goal was at least two [more] to hit the 100 mark. It just feels really good."
Sophomore infielder Raquel Procopio recorded five hits, walked once and struck out once in seven at-bats through both games. She also scored four runs, adding her fifth home run of the season in the first game and collected five RBIs.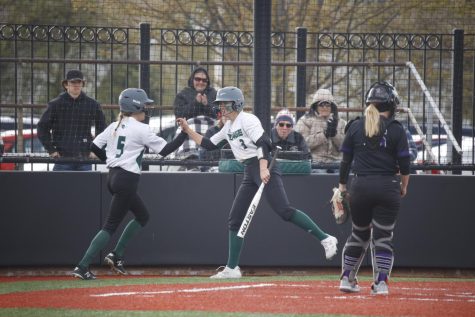 "As soon as I hit [the ball], it just felt really good," Procopio said. "It feels really good especially since it was the first inning and the first pitch [of my at-bat]. I was making a point to them that we're in it and we want to win."
Sophomore pitcher Chloe Warren pitched through the second game, throwing five strikeouts. She allowed 10 hits and five runs. While hitting, Warren recorded two hits in three at-bats. She also scored one run and collected one RBI.
"The high energy was key," Warren said. "We all were really up from the beginning. Playing last season and going 0-4 against [JJC] made us really bitter for this season. It was deserved."
The Chaparrals take on the Prairie State College Pioneers with the first game starting at 3 p.m. on April 27 in Chicago Heights.