The College of DuPage football team played their first home game of the season on Sept. 9 against Hocking College. With a dominating offense and uncompromising defense, the defending back-to-back national champions beat the Hawks 45-0, remaining undefeated this season with three consecutive wins.
"Anytime you start 3-0, it's a good feeling," head football coach Matthew Rahn said. "This was the first game we played four complete quarters. The guys were in it together. Nobody made it about themselves in the individual battles and in doing that, we walked away with a big marginal win."
Sophomore wide receiver Amariyon Lynch-Gordon scored the first touchdown of the game with 3:15 left in the first quarter. Sophomore quarterback Peyton O'Laughlin's throw found him at the 20-yard line, and Lynch-Gordon rushed into the end zone.
"Our offense is finally starting to click," Lynch-Gordon said. "Our defense always holds their own, but it's up to [the] offense to come help them out. We finally did that today."
Sophomore quarterback Robert Brazziel notched two touchdowns in the second quarter. He dedicated the victory and his plays to his late cousin.
"I was thinking of my cousin who recently passed away," Brazziel said. "This game was for him. Every touchdown that I scored, I looked up to the sky and thanked him up there."
Freshman tight end Ethan Quaye secured a touchdown after connecting on a 9-yard pass from O'Laughlin with 2:41 left in the second quarter.
"We executed," Quaye said. "Every play, we were executing our offense. Defense was doing their thing, shutting [the Hawks] down. We were the better disciplined team here."
Freshman running back Matthew Beck secured the fifth touchdown of the game in the fourth quarter, sprinting from the 10-yard line.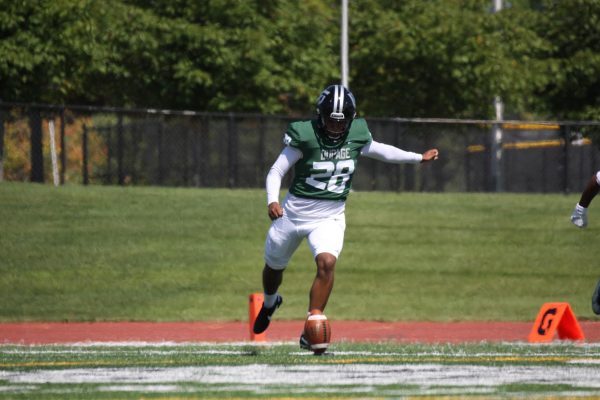 "3-0 feels great," Beck said. "We came out with the better mindset to play. We trusted each other today, and we just ran [the Hawks] over."
Freshman wide receiver Tyrese Buffkin scored the first touchdown of the fourth quarter after snagging a 57-yard pass from Brazziel.
"I'm feeling good man," Buffkin said. "We came a long way. We played how we practiced, and that's exactly what we displayed today. We [face] them again [this season], and hopefully we have the same mentality going into it again. Next week, we got a long road game. Next week, we're coming."
The Chaparrals will look for their fourth consecutive win against the North Dakota State College of Science Wildcats (3-0) at 1 p.m. on Sept. 16 in Wahpeton, N.D.