The top-ranked College of DuPage football team battled 4th-ranked Iowa Central Community College (4-1) Sept. 23 at home. The Division I Tritons put up four touchdowns in their first four possessions to snatch the lead, and the Chaparrals couldn't recover. The Chaps scored two touchdowns in the second half, but it wasn't enough to stop Iowa Central's momentum, losing 41-14 and ending their undefeated streak 4-1.
"They expect to beat us," head football coach Matthew Rahn said. "I think we proved that we have the talent to take on a team like that; we just have to operate better. They sustained drives on offense; we didn't. They stopped our offense, and we couldn't sustain drives ourselves. That right there isn't a recipe for success. We need to figure out how to get things going in the right direction. Our talent matched up with theirs. We just have to play a complete football game."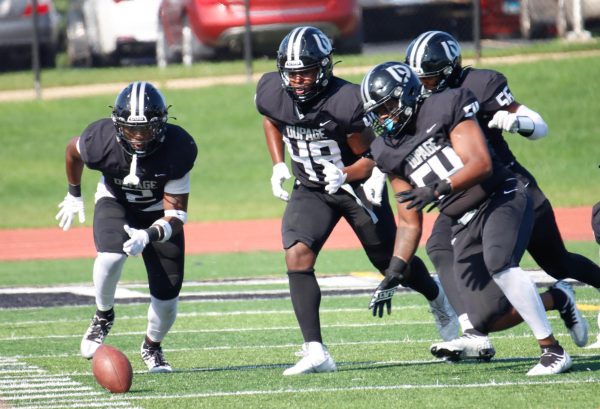 Sophomore quarterback Peyton O'Laughlin made five completions on 12 attempts for 22 yards in the game. He said the Chaps didn't quit even though it didn't go their way.
"[Iowa Central] brought a lot of pressures," O'Laughlin said. "They had a good scouting report against us. They brought pressure. They were consistent, and they did what they're used to doing. They executed; we didn't. That was the difference."
Sophomore defensive back Guy Goss made six total tackles and broke up two passes.
"[The Tritons] run a very fast offense," Goss said. "They have a lot of fast guys on their team, and they do a lot of motion. They switch things up a lot, and their speed in general makes it really hard as a defensive back. Their [quarterback] was really good at scrambling and could extend the play a lot longer than what we're used to. When you have a QB that can do that naturally, it's going to be extremely hard for DB's to defend. It's just hard running with a guy all the way across the field and staying with him."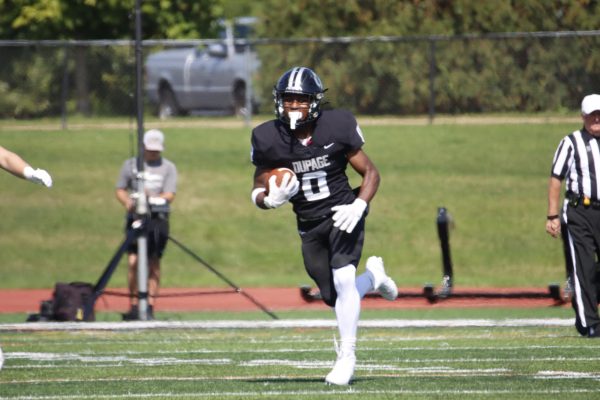 Freshman wide receiver Deszmund White scored COD's first touchdown on a two-yard pass from sophomore quarterback Robert Brazziel with 30 seconds left in the 3rd quarter. He returned six kicks for 137 yards.
"I think we didn't execute as well as we could on both sides of the ball," White said. "Toward the end of the game, we were just trying to get some points on the board. It was good to get on there."
Brazziel made three completions on three attempts for 41 yards. He scored the Chap's second touchdown with 1:26 left in the 4th quarter on a one-yard run.
"We needed to get points up on the board," Brazziel said. "We hadn't scored all game. We weren't moving the ball down the field, but we had to score. What was going through my mind was that we needed to score and get points on the board."
The Chaparrals take on the Erie Community College Kats (2-1) at 1 p.m. on Sept. 30 at Bob MacDougall Field.