"Chromatic Atmospheres" brightens Wings Gallery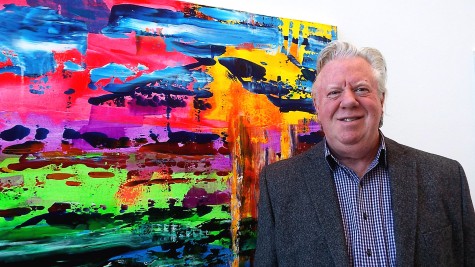 As the weather turns colder and the days get bleak, look no further than the Wings Gallery to add a pop of color to your day.  "Chromatic Atmospheres" by Mike Hunnicutt opened Dec. 3 featuring a collection of paintings designed by smearing paint layers over fluorescent base colors.
After retiring from his lifelong sales job, Hunnicutt began to get bored without a full-time position. He turned to the College of DuPage for painting classes under the instruction of art Professor Jennifer Hereth. Because of his desire to learn at every point in his life, Hunnicutt found his artistic talent and began exploring his own style.
Hunnicutt does not use brushes like a typical painter. Instead, he uses a series of scraping tools to smear his paints across the canvas. To generate the 3-D effect given off by his pieces, he first paints a background layer and proceeds to combine colors in the foreground. This technique creates a depth designed to look intentionally messy.
Many artists find inspiration from others in their genre of work, and although Hunnicutt draws from the work of Gerhard Richter, his main source of inspiration comes from a different place.
Hunnicutt designs his pieces to be perplexing to the viewer. He strives to create a sense of non-reality and hopes that anyone looking at his pieces leaves with questions about what the painting is supposed to represent.
"In my opinion, photography has taken away representational art," said Hunnicutt. "I want my art to look like something you've never seen before. I hope that it evokes a feeling or memory, and people think 'What is that?'"
Hunnicutt believes that the exhibition takes place at the perfect time. In the midst of the dreary winter, he hopes to bring life to anyone passing by the gallery.
"I hope that students walk by and see the splash of color and it can transport them to another, more enjoyable place, like summer, even for five minutes," said Hunnicutt.
The seven-piece exhibit will be on display in the Wings Gallery through Jan. 23. The gallery is open to the public from 11 a.m. to 3 p.m., Monday-Friday. To view more of Hunnicutt's work, visit www.hunnicutt.rocks.