Chaparrals Win Second Straight Game Over Harper
The Chaparrals took down the Hawks to clutch their fifth win of the season.
The College of DuPage women's basketball team seemed rattled Tuesday night in the third quarter after leading by 12 points before halftime. The Chaparrals only scored eight points coming out of halftime to Harper College's 18 points, but they buckled down in the fourth quarter, with three players scoring three-pointers to regain the lead. The Chaparrals beat the Hawks 55-48 at home, increasing their record to 5-11.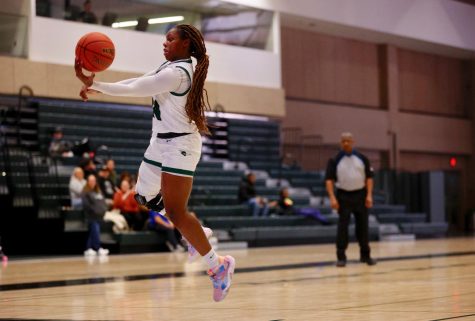 "I think the girls honestly like putting me in these situations," head women's basketball coach Abby Talley said. "I'm a blonde, but they're giving me white hairs. It's kind of outrageous; we just like to keep it close. I will say, the positive thing about being in these situations often is now we're starting to understand how to close [games] out."
Out of 30 collective fouls, the Chaparrals committed 14 throughout the game. Talley said the team stayed confident and held their composure, giving them the means to pull out the win.
"Unfortunately, and it's kind of obvious now, we were hit pretty hard," Talley said. "I love how aggressive we are. It's how a lot of teams in the future are going to be, and that's what we're recruiting for. With that comes the responsibility of staying disciplined… not every call is going to go our way. Learning from that and moving on is what's going to make us a good team."
Sophomore forward Katlyn Allen earned a double-double with 16 points and 11 total rebounds. She also had two assists, two blocks and two steals.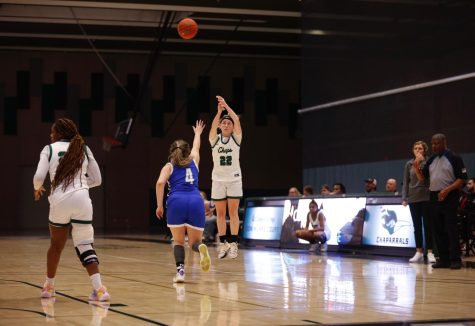 "I feel amazing," Allen said. "It wasn't the prettiest basketball we could've played, but it feels really good to get those wins. It's fun when we're up. We can relax a little and see what we need to work on… We played like a team. We might still have stuff to work on, but we played really well."
Sophomore guard Mykah Berkompas scored 15 points and snagged eight rebounds. She also led the team with six assists.
"We were up 12 [points] and then didn't score for a while," Berkompas said. "That put a fire under us and kicked us into gear [thinking], 'We need to step up right now.' It did get nerve-racking, but we ended up with the win."
Freshman guard Sierra Gibson scored 10 points and made four out of four free throws. She also had seven rebounds, three assists and two steals.
"I like to keep the energy moving," Gibson said. "If I'm going at a faster pace, then my team picks up with me, and that's when we run out teams. We had energy in the last two minutes, but we needed it to be in the beginning."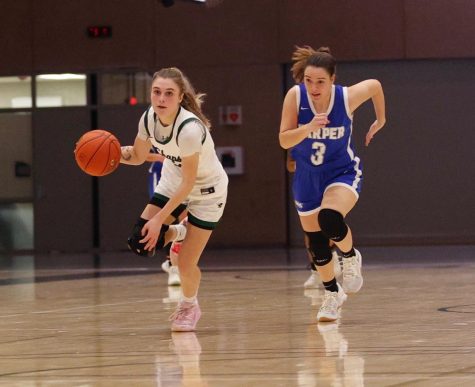 The Chaparrals will look for their third consecutive win against the Milwaukee Area Technical College Stormers at 5 p.m. on Jan. 19 at Klaas Court.