Chaparrals Win over Spartans in Last Home Game of the Season
The College of DuPage men's basketball team finished their season with a win at home over Aurora JV University.
The College of DuPage men's basketball team kept their composure against Aurora JV University Sunday, keeping the Spartans at bay defensively. With a collective 40 rebounds and 25 assists, the Chaparrals beat the Spartans in their last home game of the season 86-74, raising their record to 17-13.
"The last couple of games, [the team's focus] has been defense intensity," assistant men's basketball coach Eric Garcia said. "We're picking up full court and pressing them, so it causes [opponents] to make a lot of mistakes. I think that's been the key for us down the stretch."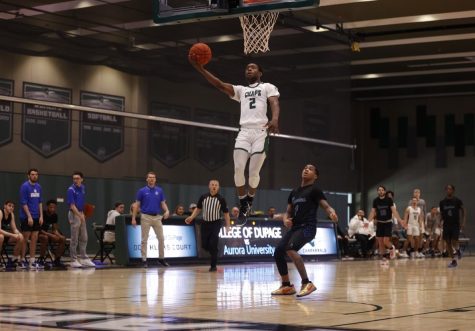 Sophomore guard Finn Walsh earned his fourth consecutive double-double, scoring 12 points with 11 assists. He also made three steals and one rebound.
"I'm a pass-first point guard who likes to get everyone involved," Walsh said. "I want to see everyone having fun; I want to see everyone eat. When I have so many people playing well around me, I have the easy job; I hit the open person; they'll make the shot and give me the assists."
Sophomore forward Matt Elliot earned 12 points with five rebounds. He also made four blocks, three assists and one steal.
"We moved the ball well and scored," Elliot said. "Nearly everybody got the chance to score again; we have five guys in double digits [for points], which is great and a couple more who were right there."
Freshman guard Derome White scored 12 points with five rebounds. He added four steals and three assists.
"We executed certain aspects very well," White said. "We should've worked on getting more rebounds, but we passed the ball pretty well, had good ball movement and played great defense. That all ended with a win, so I think we did a good job as a team."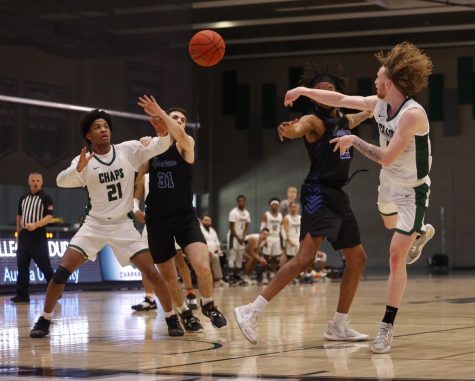 Sophomore guard Drew Gaston scored 21 points with six rebounds. He also made three assists and two steals.
"I'm happy we got a win today," Gaston said. "Now we have to get ready for the playoffs. It's win or go home. We have to bring our energy and play our game this Friday."
The Chaparrals will compete in their first game of the postseason at 8 p.m. on Feb. 24 at the Joliet Junior College Event Center.