Chaparrals Win Over Skyhawks on Sophomore Night
The Chaparrals earned the win, evening out their record to 13-13.
The College of DuPage women's basketball team stood tall on sophomore night, holding the lead over Sauk Valley Community College after every quarter on Klaas Court. Through consistent field goals and steals, the Chaparrals beat the Skyhawks 65-49, raising their record to 13-13.
"It goes to show that all the hard work [the team] put in this season is definitely paying off," head women's basketball coach Abby Talley said. "For them to be able to say that they won on their sophomore night is huge, not many people get to say that. I hope they can keep this as a positive memory."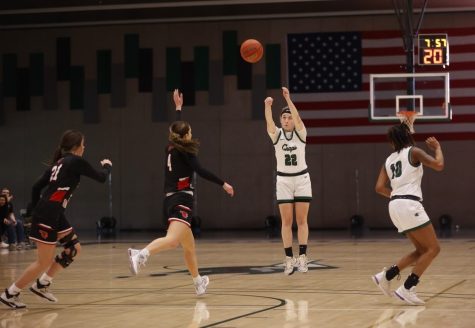 Sophomore guard Mykah Berkompas scored 19 points with two rebounds. She also made three assists and one steal. Berkompas said the team started getting hot after the first half.
"We didn't come out with as much energy as we have in the past few games," she said. "Once we all came together, started moving the ball and playing together as we have been, it started working for us."
Sophomore forward Katlyn Allen earned a double-double, scoring 10 points with 16 rebounds. She also made six assists, six steals and one block. Allen said it was nice to have her family come to one of her last few games.
"Sometimes [my family] isn't able to make a lot of games," she said. "Especially since we had such a losing streak, but coming back and having a win at home in front of my family feels great."
Sophomore guard Alyssa Havard scored 14 points with seven rebounds. She also made five assists and two steals. Havard said sharing the ball and making changes is what helped the Chaparrals stay in the lead.
"This was a good team win," she said. "It wasn't the best, but we executed our plays, we made a lot of good shots and a lot of tough layups so this was a good win, especially on sophomore night."
Sophomore forward Korriana Wilson scored five points with six rebounds. She also made two steals. Wilson said the team didn't play with enough energy throughout the first half.
"We need to bring more energy into our next game," she said. "We had a rough start and we hope to start our next game even stronger."
The Chaparrals will look to win their last home game of the regular season against the South Suburban College Bulldogs at 5 p.m. on Feb. 13 at Klaas Court.