Chaparrals Fall to Kougars in Second-Half Slump
The Chaparrals had four players score over 10 points in their 13th loss of the season.
The College of DuPage women's basketball team had unwavering confidence throughout the first half Saturday afternoon, leading by 11 points over the Kishwaukee College Kougars at home. The Chaparrals grew cold after coming out for the second half, and they couldn't regain control. Ending a four-game win streak, the Chaparrals fell to the Kougars 64-72, leaving their record 11-13.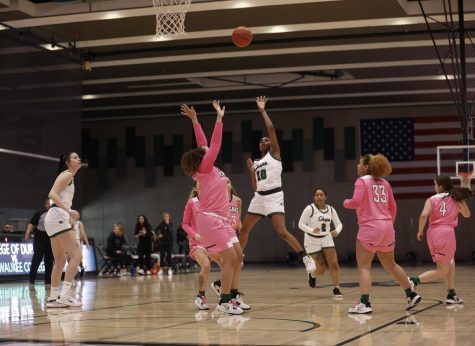 "With us shooting so well in the first and the second [quarter], I had a feeling we were going to get complacent," head women's basketball coach Abby Talley said. "You could see we were settling, doing things that weren't really working and out of our norm. Once you let teams like this hang around, it's going to be very hard to beat them in the end."
Sophomore guard Alyssa Havard scored 18 points with nine rebounds. She also had five assists and one steal.
"When they came out and started hitting big shots, we just let our heads down," Havard said. "They just wanted it more than us, and I feel like that's how they got to us."
Sophomore guard Mykah Berkompas scored 18 points with one rebound. She also made six assists with three steals.
"I made [three-pointers] in the first half, and then I just got cold," Berkompas said. "It happens. You can't make every single shot that you take. I just think the second half, as a team, it wasn't the basketball we're used to playing; this might have been a setback, but we have a huge game on Tuesday."
Sophomore forward Korriana Wilson scored her first double-double of the season with 12 points and 10 rebounds. She also made one assist and one steal.
"First quarter, we were passing the ball really well and hitting our shots," Wilson said. "The second [half] got away from us; we weren't moving and we were tired."
Freshman guard Sierra Gibson earned 12 points with nine rebounds, she also had five assists.
"[The Kougars] honestly just started knocking down everything," Gibson said. "We were getting goofy calls, and they were just making [baskets]. In the beginning, we came out with all heart, and at the end it just fell apart."
The Chaparrals will face the Milwaukee Area Technical College Stormers at 6 p.m. on Feb. 7 at Milwaukee Area Technical College with five games left in the season.