Chaparrals Fall to Cougars in Fifth Set
The College of DuPage men's volleyball team fought to stay in the match against St. Xavier University but couldn't keep up with their pace, costing them the win.
The College of DuPage men's volleyball team had unwavering energy going into their first match against St. Xavier University of the season Saturday afternoon, taking an early lead after winning the first set. As the game continued on, the Chaparrals grew tense and the Cougars took advantage. After fighting to make the game go to a fifth set, the Chaparrals were defeated by the Cougars at home, leaving their record 4-5. The final scores of the sets were 25-17, 11-25, 15-25, 25-23 and 19-21.
"Things can be difficult when you start to get squeezed a little bit, or you get moments where you haven't necessarily had the experiences," assistant coach Braden Woods said. "I think just touches [on the ball] and maturity is really what it comes down to. Being in that situation, having fought through that situation and now coming out on the other end is going to help us grow."
Freshman outside hitter Fawaz Ilukoma had 11 kills on 31 attacks with eight errors. He said the team's communication is what helped them get as far in the game as they did.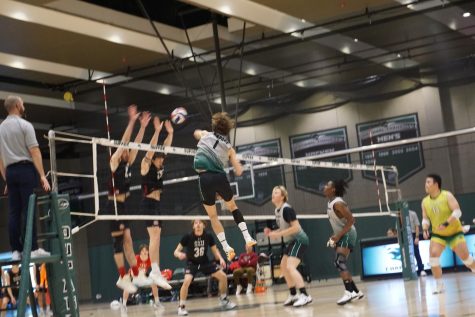 "I don't think anything went wrong, but sometimes it just happens," Ilukoma said. "You're not going to get every set, and we played the best we could. That was probably one of the best games we've ever played, so we're just going to keep our heads up and keep going."
Freshman middle hitter Ashton Baula made three kills on 11 attacks with two errors. He also had two service aces, one dig, one solo block and three block assists.
"In the first set, we showed glimpses of our team working cohesively and being aggressive," Baula said. "We let up. We showed our skill and our ability to be able to win matches aggressively, but we did it to ourselves."
Freshman setter Michael Lipowski made two kills on 10 attacks with two errors. He also had three digs and one block assist.
"In the beginning, we really wanted it and really came out swinging," Lipowski said. "The energy was there, but then we kind of got into our own heads. For sure, the next time we play [the Cougars], we got them."
The Chaparrals will look to even out their record in the Finger Lakes CC Tournament against the Finger Lakes Community College Lakers at 8 p.m. EST on March 3 in Canandaigua, N.Y.