Athlete of the Week: Mykah Berkompas
An exclusive interview with Mykah Berkompas, whose performance on the women's basketball team earned her a spot as Athlete of the Week.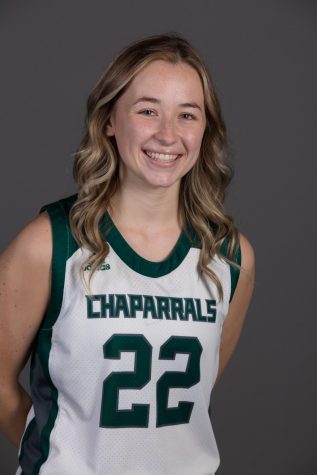 Athlete of the Week: Mykah Berkompas
Sport: Women's basketball
Position: Shooting guard
Year in school: Sophomore
Hometown: Aurora, IL
High School: Waubonsie Valley High School
Lily Goodfellow: How is the season going so far?
Mykah Berkompas: Not the way we expected, but we are making steps in the right direction so I definitely see a bright future.
LG: What team are you most excited to play this season?
MB: I wouldn't say a specific team, but I'm excited to get into the conference. We are a whole different team this year and [the other teams in our conference] won't be expecting it. So, once second semester pops in, I think it will be a game-changer to play against our conference schools. 
LG: What achievement in basketball are you most proud of?
MB: So I actually did not play my senior year in high school, and I came into COD not wanting to play basketball. Then last year I ended up getting First Team All-Conference and First Team All-Division. So that was a huge deal for me, especially not playing my senior year and not being the main player throughout my whole basketball career. I was an All-American nominee as well.
LG: How did you end up playing basketball for COD?
MB: The old coach reached out to me via text because when I applied here I put women's basketball down as an interest. When I toured the school for the first time they said that I could play if I wanted to, and I thought 'I might as well.' I missed [basketball] a lot, so coming back to it was super exciting and new and fresh.
LG: Why didn't you play your senior year?
MB: Mostly because of COVID.
LG: What are some of the biggest obstacles you have overcome?
MB: I would say in high school I lost my confidence within basketball, so then obviously having to gain that back last year was rough. And then just overcoming changes. We got a new coach, who we absolutely adore now, but just that whole transition from what I knew last year to now is just very different. But we're getting over it now in positive ways.
LG: Do you and your teammates have any rituals before a game?
MB: Not right now, but we're only four games in, so I think we can find some. We definitely like to get each other very excited and good stuff like that. So nothing specific, but we'll figure it out.
LG: What is the best piece of advice you've received from a coach?
MB: I'd say just to keep going and stay confident. Last year I was one of our main people, so obviously I could not get down on myself if we were losing. We did not have a good season last year but you've got to keep pushing and just do your best. Keep trying is the best I can say. 
LG: If you could travel anywhere in the world, where would you go?
MB: I would want to go to Bora-Bora. Just because I know it's really pretty and you can stay in little huts over the water. I think that would be cool.
LG: What is your favorite movie?
MB: I would have to say Love and Basketball or Coach Carter. One of the two. They're both really good movies. 
LG: Where do you see yourself in five years?
MB: Hopefully married, and an occupational therapist and done with school. Nothing too exciting. Just simple.
LG: Do you have plans to transfer somewhere after this year?
MB: I don't know exactly where right now, but I still have a little bit of time to figure it out. And with the help of coaches, I may possibly have a chance to play at the next level next year. The coaches are obviously going to push me to go to the place where they think I will fit best. I have two more years of eligibility, so I might as well use it and play somewhere.
LG: Do you know what kind of occupational therapy you want to do?
MB: In high school I did the PE program for kids with special needs my junior and senior year and I loved it. In occupational therapy you can work with people with special needs in different settings and I think that's exciting. I think I'd prefer to work with people with special needs, but I'll work with anybody that needs it.
LG: What one word best describes you?
MB: Reliable.
LG: Thank you, Mykah!
MB: You're very welcome, Lily.