Architecture student creates a model for an 'open-space' in Chicago
Michael Rivera hopes to keep his family's rich history in architecture intact.
His grandfather worked in the construction management industry. His mother creates aesthetically pleasing spaces as an interior designer. Rivera will follow the steps of his father and study architecture.
"It was what I was raised on, and growing up, I had a passion for architecture,"  Rivera said. "My parents fostered that love for architecture. And when we drove around on the weekends, my parents pointed out buildings that they designed."
Two years into his study of architecture, the sophomore is leaving his own mark on the architecture program at College of DuPage (COD). His urban infill gallery studio residence final model project proposes some solutions for an "odd triangle" in Chicago's River North community. Rivera was one of the many students who proposed solutions for an open space at the Architecture 2202 final review on May 11.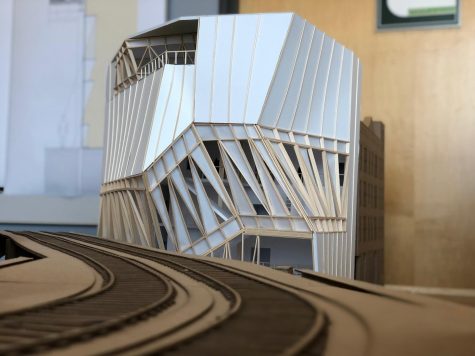 Provided by: Michael Rivera
Using a sculpture, painting and cultural artifacts from the Art Institute of Chicago, Rivera's idea uses artwork as a tool to determine the relationship between spaces, function, program and spatial requirements for his urban land rededication.
His proposed design takes advantage of the site's location just around Franklin Street and Chicago Avenue. Being a transportation hub, the model is designed to communicate perpetual motion.
"My goal was to reflect this feeling in my design," he said. "So just as the site had many paths of movement ("L" tracks, bus schedules and Divvy bikes), my building design also encouraged movement," Rivera said. "Along with this, it also engaged with the manipulation of lines of sight, allowing visitors to look into different art galleries wherever they stood."
Overall, his model is aesthetically pleasing. It reflects River North's rich artistic and creative history. The proposed vertical design is a cozy, contemporary model with a residence on the top floor that allows visiting artists to have a view of the city's skyline, a studio on the middle floor and an art gallery on the first floor. The gallery was designed to protect permanent and delicate art pieces from harmful rays of the sun.
Rivera's model reflects the purpose of the Architecture 2202 class, from identifying and analyzing contextual factors in design problems to presenting design concepts.
"This is the last studio for architecture students at COD," said Architecture Professor Mark Pearson. "This prepares them for the kind of classes architecture students will take once they transfer."
Rivera hopes to complete his general education classes at COD at the end of the next academic year. He plans to transfer to the University of Illinois-Urbana Champaign and apply for the International Architecture Study Abroad Program at Barcelona el Valles.