According to Jim
Belushi on past, present, and continuing the chase for magic
College of DuPage alumni Jim Belushi was on hand at the McAninch Arts Center on Sept. 12 for the  "MAC Motown: Signed, Sealed, Delivered" concert. In addition to celebrating and benefiting the many programs at the MAC, the official dedication of the Belushi Performance Hall took place.  Courier Features Editor Bridget Kingston chatted with Belushi before the show to gain insight on his new live improvisational show, The Board of Comedy, what viewers can look forward to seeing in the future and what Chicago and COD really mean to him.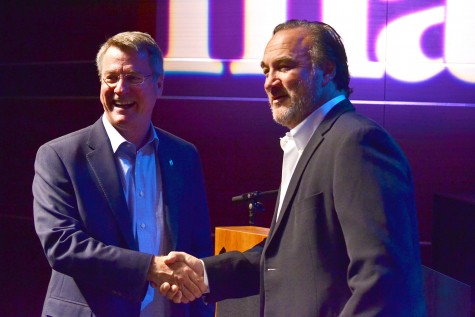 BK: The Board of Comedy show is, in a lot of ways, similar to your work with The Second City. Do you ever find yourself feeling nostalgic or is every performing experience different for you?
JB: Well, the Second City was improvisation, for a result. Meaning we would improvise, and then eventually make them into scenes, or sketches, and then we would put them in a show. So we would have two acts of prepared material that was derivative of improvisation, and then the third act would be pure improvisation. That's The Second City format. What I do with The Board of Comedy is called short form. It's improvised every show, and we do about nine different games. So every time it's fresh, and there's nothing nostalgic about it. It is in the moment, fresh, wild, and fun!
BK: During your performances with The Board of Comedy, there's a lot of audience participation and inclusion. Was that concept in mind when you were creating the show or is it just what the show has evolved to?
JB: Improvisation's nature is an inclusive nature. The audience participates whether they want to or not (laughs). They're giving us suggestions for scenes, suggestions for relationships, suggestions for objects, or pet peeves. It goes on and on. So, our scenes take the direction that the audience gives us. They are our scene partner. There are moments when we bring people up from the audience on stage, but we try to create a situation where they're always going to look good. And that's where the magic happens. They know we're making it up, they're out there giving us suggestions and seeing how clever we are, and so they're pulled in and engaged. So now, we've created a show together. And it's magic.  
BK: Who else joins you on stage during The Board of Comedy?
JB: Larry Joe Campbell, who played my brother-in-law on "According to Jim", who's just a star. He's just the funniest man alive. And I think he was by far the true star of "According to Jim."
BK: (laughs) Really?
JB: Oh yeah. By far. He was so funny. He is so much funnier than me (laughs). He's just such gentleman, a family man, and the meanest guy on stage; just absolutely hilarious. So Larry Joe is really our anchor. We're actually doing a show without him next week, and I'm very nervous about it (laughs). Joshua Funk, who's from Chicago, he was also in The Second City in Detroit. He's a writer and a musician as well, and he's doing all the music for the brand new Bugs Bunny cartoons. He beat out 700 guys for it. He's phenomenal. He was also nominated for an Emmy for the music he did for "Key and Peel," the comedy show on Comedy Central. So he's another monster. And then Brad Morris, also a Chicago resident. He was actually a neighbor of mine when I was with Second City. Yeah, he was like 9 years old, and I would take him to the theatre. He fell just in love with it. He's one of the great improvisers within our community. And then there's Megan Grano, who's from the Detroit, Michigan area. She was at Second City as well, in fact we're all from The Second City.
BK: You're a Chicago native and a College of DuPage alumni, and you've remained a very active member of both throughout your career. What is it about both of these that keep you so connected and involved?
JB: Well, this is where I got my identity. My roots are here. My identity was formed here at the College of DuPage. My direction and purpose was formed here with the help of the faculty. Richard Holgate, Jack Weiseman, Jodie Briggs, B.F. Johnson; those men and women were the ones that believed in me, and stretched me, and focused me. I found myself here. And then I continued to find deeper purpose at The Second City. So the reason I keep coming back is because it's where I learned to be me. And then I went to Hollywood and learned to be a jerk but, you know (laughs).
BK: So earlier today you were with DuPage Habitat for Humanity: Women Build. How did that go?
JB: Oh that was great! It was out in West Chicago. They made me wear a pink hard hat, and they bedazzled it. Yeah they put all kinds of stuff on it, but I'm man enough to wear pink (laughs). I put up some siding, and some drywall on a lovely home, and met the nice woman who's going to move into it with her son. It really is one of the great organizations in the DuPage County. Habitat for Humanity in DuPage County is very prolific. They've been doing great things for 20 years. And I really believe in what they're doing for our community. You know, everybody just wants a place to live that feels safe; where they can raise their children and live their lives. And once you make that available, they can prosper. It's a long term investment, but it's the best investment for family and community alike. The women were a little bossy, not gonna lie (laughs).
BK: (laughs) We tend to get that way sometimes.
JB: Oh, they think they know everything. And they do (laughs). They were really awesome, I'm totally teasing.
BK: You've done everything from stand up comedy, to TV and film, to Broadway and music; which do you feel most comfortable doing and which brings up the most challenges?
JB: I get asked that question a lot, and it's a good journalistic question, but the real answer is they each have their challenge, and the joy is overcoming those challenges. So when people ask me what I prefer, I just say I love them all. I learned a long time ago to never put what you love in conflict with each other. I love singing with my band, I love being onstage, I love being in film, and when I'm asked which one I love better, it's like taking 2 children and choosing which one you love more. Or, it's like my 2 arms; I love them both the same! I do love the most perhaps, if I had to say something, performing on stage, because of the relationship with the audience. Again, I really believe that's when the magic happens. And I'm a magic chaser (laughs). Wherever the magic is, I try to find it.
BK: What did you most enjoy about filming According to Jim?
JB: Larry (Joe Campbell), Courtney (Thome-Smith), Kimberly (Williams-Paisley). It was just a beautiful ensemble. You know, if you give it the opportunity, there is a platonic love with a performer that can go so deep, and it's just a new love. And that's what I have for all of them, I love them. And we never even hung out! We didn't go and do stuff unless it had to do with promoting the show. But when we came to work, it was 'what can I do for you, how can I make your joke work, take my joke because I can't do it.' You know, it was just the best. That's what I enjoyed most, working with those guys. They're just great. And what's awesome is that I get to work with Larry again now.
BK: That ["According to Jim"] was filmed in front of a live audience, so did you find yourself tapping into some of your improvisational talent?
JB: Oh yeah! Larry and I, oh man. We improvised a lot on that show. The writers weren't too happy about it (laughs), but we had a blast.
BK: Speaking of TV, you've been cast in Fox's television adaption of "Urban Cowboy."
JB: I wouldn't call it an adaption, necessarily. It's not the same story as the film with Debra Winger and John Travolta. It's in the same place though, in Texas. I actually just left yesterday from the first read through of the pilot, and it's with Fox and Paramount, and hopefully it will be out in March. They're looking for something to fill in while "Empire" goes on hiatus, so we're very excited to get started. We start shooting next week in Austin, which is a music town, so I am very happy about that as well.
BK: Are there any other projects you've been working on?
JB: I just finished shooting "Good Girls Revolt," a pilot for Amazon. It's based on a true story, and takes place in 1969 at Newsweek Magazine when the women researchers filed a lawsuit against the magazine, and won. And that was the big break for women journalists. So it's a show about that time. Written by a woman, directed by a woman, produced by a woman, and then there's me (laughs). They needed somebody male to bounce off of. But wonderful people, wonderful cast, I'm excited about that too. And then I just finished a show called "Show Me A Hero" on HBO; written by David Simon, directed by Paul Haggis, it was just terrific.
BK: How are you feeling about the dedication of the Belushi Performance Hall here at College of DuPage?  
JB: Really all I can say is that it's great to be here, and they've bestowed my family a real honor by naming this theatre the Belushi Performance Hall. When I started here they just had those temporary buildings outside, and our stage was built in the cafeteria with 4 by 8's bolted together. But you know it was never the space, it was always the people and the faculty that created the spirit. You can perform anywhere, but it sure is nice to have a space like this to continue the inspiration of artists in this community. We are so very honored to have the Belushi name represented in this way.