A question and answer with the president of the Black Student Alliance
The African American Student-Alliance, one of College of DuPage's cultural and ethnic clubs, has resurfaced this semester as the Black Student Alliance (BSA). What necessitated this change? How is the BSA here at COD a voice of the black community? We asked BSA President Veronica Williams:
Vandy Manyeh: Who is Veronica Williams?
Veronica Williams: I'm a sophomore here at COD, a member of the speech team and the new president of the Black Student Alliance.
VM: Why was the alliance's name changed from AASA to BSA?
VW: I feel like BSA encompasses much more than AASA. You have black people from all over the world, not just Africa. AASA meant that if you're not an African American, the club wasn't for you.
VM: How is the BSA here at COD ready to represent black students when it comes to advocacy?
VW: When it comes to advocacy issues, with Black Lives Matter being one of them, we will be promoting the positive image of black people. We will also be discussing stereotypes, and how we can change the negative views of people.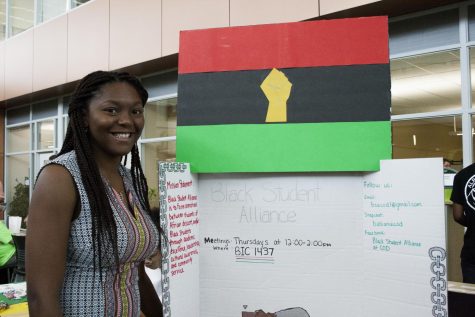 BSA President Veronica Williams at a recent fair on campus
VM: What is the relationship like between the administration and the BSA? Take for example the Center for Diversity and Inclusion.
VW: With David Swope being our advisor, and being the head of the cultural and diversity section of COD, we are willing to work with different groups at COD as well as promoting the togetherness of the group. One thing we are working on is getting a multi-cultural center; we are just working towards those goals.
VM: What programs do you have in place for students interested in the BSA?
VW: Well, with BSA we have study sections to make sure everyone is improving since we are a students' club first. So academics are really important. There are many other things we are working on now.
VM: Why is COD a place for an organization like BSA?
VW: You have black students coming from all over to COD. We have students from different states, backgrounds and countries. I think having a safe place to come to and talk is really helpful. It is nice to talk about issues in the world, and it helps people to integrate into the school. Like I know a lot of people come from the Chicago Public Schools (CPS), and when they come to COD, it's like a cultural shock. You have different people here. BSA is a good program to help them get aware of their blackness and how to be comfortable no matter what.
VM: Is the BSA restricted to black students?
VW: This club isn't black exclusive. We are talking about black issues to raise awareness and educate people. It's not just for black students; it is for anyone who wants to learn more about the black experience.
Are you interested in discussing issues centered on black culture and advocacy? Send an email to  [email protected].