A question and answer with Judy Burgholzer, the woman who heads COD's horticulture program
College of DuPage horticulture students placed fifth in the nation at a recent landscaping professional competition in Utah. The horticulture program is expanding and has more degree and certificate programs. Hosted in the Technical Educational Center, the program has state of the art learning facilities and outdoor labs for students enrolled in the program. The Courier had a conversation with the program's coordinator and adviser about the many things COD's horticulture program has to offer. Here is how it went:
Vandy Manyeh: What is the strength of the horticulture program at COD?
Judy Burgholzer: The strength of the program is we have a lot of hands-on experiences for our students. We prepare them for careers in the industry, and we are very well respected by area employers. They know our students get good training here and are ready to work. We have four classrooms, two of them are dedicated to the program, one is a floral design classroom, and one is our landscape design classroom. We have drafting tables, computers for the computer-aided drafting and three outdoor learning labs. One is our landscape lab. It is where students do plant installation, hardscape construction and for plant identification classes; so they have a lot of hands-on there. We have a 12,000 square foot greenhouse, where students get the experience in growing greenhouse crops, annual perennial vegetables and herbs, and, of course, we have our big sale in the spring for all of those products. And then, our newest lab is the sustainable urban agriculture lab, which is to the south of the greenhouse, and it has several raised beds, a green roof, a high tunnel, which extends in growing season for the various crops, compost bins and coal frames that are used in the growing season.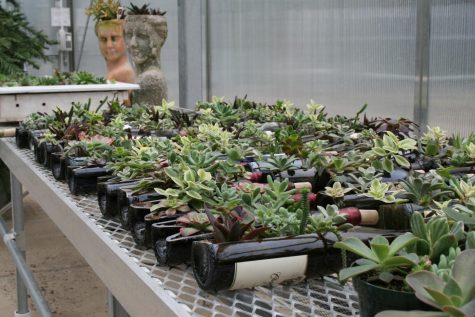 VM: What growth has this program seen since it started at COD?

JB: Since it started, we saw phenomenal growth in the early 90's, and then it kind of leveled off, but now in the last year we added two new degree programs and two new certificate programs. So we now offer three degrees, an associate of applied science in horticulture, landscape contracting and management, and that is a result of our recent accreditation by an organization known as National Association of Landscape Professionals (NALP). They wanted a prescribed set of courses where students will be prepared for landscape contracting and management. And then, the other new degree is the sustainable urban agriculture. We added two certificates. One is a certificate in sustainable urban agriculture, and the second was in power equipment technology. There are a tremendous number of jobs that are available in the small equipment repair, diesel engines, power generators, electrical systems and that kind of thing. We have six new courses that make up that certificate.
VM: How engaged is your program with the COD community?
JB: We are very engaged with the community. We offer tours of our facilities and landscape labs. We bring in garden clubs, elementary and junior high school kids for tours. Our floral design class just made the boutonnieres and corsages for the retiree reception that was held yesterday (April 26, 2017), and they do the flowers for the all-college advisory committee in the fall semester.
VM: What scholarship opportunities do you have for students?
JB: There are several of the garden clubs that offer scholarships from the surrounding communities. There are two professional organizations: one of them in NALP, and, statewide, the Illinois Landscape Contractors Association (ILCA). They have a scholarship program, and we have had several students applied and won their scholarships.
VM: What is the strength of the faculty teaching horticulture related courses?
JB: The strength of the faculty is that we each have our own specialty. Two of us are full-time. We have our set courses that we teach, but then we have probably about 25 part-time faculty who teach in the program, and they bring their expertise. Our floral design instructor has her own floral design shop. The instructor who teaches our greenhouse class has worked in the greenhouse industry for years, and so we have people that are bringing the most current information, know the trends in the industry and our students get the benefits of that.
VM: What opportunities are available to students after graduation?
JB: Our students end up in many different places. If they have been through the landscape design program, they may work for a company as a landscape designer. Some start their own businesses where they do landscape design and installation. We have people who go and work for the area nursery and garden centers, work for landscape companies as a foreman or on the crew. With the new sustainable urban agriculture program, we haven't graduated any student yet, but our hope is they will end up working for some of the urban farms. There are several hydroponic growers, and they can work in the production of local food.
VM: Any final words?
JB: Everybody is welcomed to come into our facilities at any time and contact us if they have questions about the program. We are just a really diverse program. If you look, we offer nine different programs, and there are many different areas of horticulture. There is floral greenhouse nursery, landscape and turf maintenance, landscape design, sustainable urban agriculture, power generation, power equipment and technology. We do a lot.
Here is a link to College of DuPage's horticulture program: http://www.cod.edu/programs/horticulture/index.aspx