A change of heart
The 1975 ditch perfectly pop image for raw emotion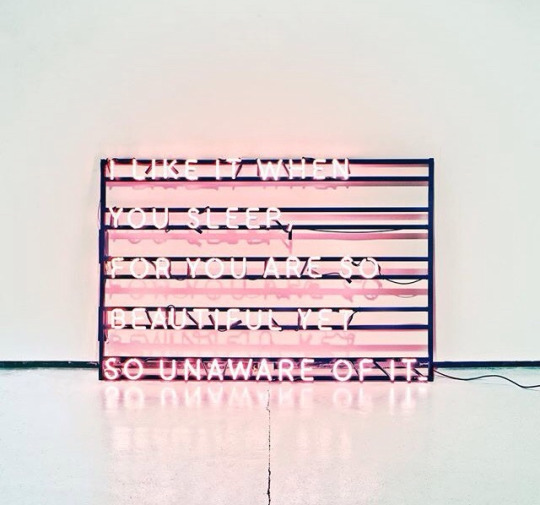 At first glance, The 1975 are obnoxious. They're arrogant. They're flamboyant. And their latest release proves that they are anything but their publically perceived image.
The four-member indie-pop band from Manchester, England has revealed a mid-transformation compilation album from shallow dance music to complex lyrics questioning religion and depression.
The album's title is almost as ridiculous as the full collection. "I like it when you sleep for you are so beautiful yet so unaware of it," which debuted at No. 1 on iTunes in 37 countries, proves beyond reasonable doubt that the band will keep evolving to unexplored stages and sounds that mirror their personal progression.
Messages from drugs, to relationships, to the unnatural glamorization of fame and overreliance on others for self-confirmation are explored. It's the album equivalent of mismatched socks in both message and sound, marking a transitional period between what the band is supposed to be and who they really are.
The band is known for its naïve teen following; picture Nirvana messages with nothing but One Direction fans. "I like it when you sleep…" allows for deeper, more controversial topics to take center stage whereas in the band's past releases, disturbing lines were strategically hidden in between heavy electronic bursts and catchy pop tunes. It will be no surprise when a section of the band's original fan base stops showing up to shows as the band continues its evolution, only clinging to the six or seven upbeat tracks presented on this album. It will also be no surprise if the fanbase shifts to a new stereotype in the midst of a much broader, genre-defying sound.
While much of the album encompasses a deeper, vulnerable side, it opens with tunes symmetrical to the band's past. Within the first five songs, listeners are quickly mislead in thinking the band has solidified themselves a spot on the top of the pop charts worldwide. To start, the album opens with the same exact song that opened The 1975's first, self-titled, album, this time amped up with a gospel choir and louder instrumentals. From there to the album's first single, "Love Me," and teenybopper anthem, "She's American," the album reflects everything former listeners had expected to see. It's not until song six that things really begin to take a turn.
While there is no one track on this album that can completely represent the collection as a whole, "If I Believe You" represents the start of the band's evolution well.
The synthesizer-filled gospel song explores lead singer Matty Healy's journey to identify with religion. The tone is both confrontational and groveling. It represents the first time Healy or band members have waved a white flag at any beliefs. It reads as a prayer Healy has yet to realize he is meditating on. Lyrics like  "If I told you I need you, is that what you want? I'm broken and bleeding and begging for help," showcase that. Still, Healy's familiar arrogance takes center stage in lyrics that challenge the idea, singing, "I mean, if it was you that made my body you probably shouldn't have made me atheist."
As the album goes on, the band experiments with new sounds. "Loving Someone" reads as if written for a poetry slam, and the tune abides. The title track is a mostly instrumental piece, which at times sounds like a generic ringtone.
"Paris" proves the lyrical capabilities of the band, mocking the shallow life of a self-absorbed girlfriend, and declares Healy's love of drugs to be much stronger than his love of the girl. "Nana" speaks of Healy's grandmother's passing and "She Lays Down," a completely acoustic track, describes a young Healy having difficulty understanding his mother's postpartum depression.
This album's sound is so out of left field that, at many times, it feels like the brainchild of a completely different band. Still, there are moments in between the unidentifiable in which the band's roots shine so brightly it's hard to find discomfort. It's a bittersweet transition: an almost unsettling feeling with a very proud and emotional counterpart. It's like watching a part of the band die while giving life to something much more meaningful. It is the step that has allowed The 1975 to fully embrace who they want to be from here on out, and the transition, while unexpected, is entrancing.
"I like it when you sleep…" is hard to get a hold on. It's difficult to digest. Unlike the band's first album, painted perfectly pop, this album is both dark and light. It is happy and it is eerily defenseless. And it's perfect the way it is.
Rather than creating meaningless anthems to please every fan, or hiding the true messages, the band poured their deepest and most severe life questions into this album, making me more confident than ever in their artistic abilities going forward. This album is honest. It's raw. And it's beautiful, no matter how you listen.