Q+A: A chat with the president of the SLC
College of DuPage (COD) students will vote for a new student body president, student body vice president and student trustee on Wednesday & Thursday, March 14 and 15. How ready is the Student Leadership Council (SLC) for these elections? What are some of the SLC's ongoing projects? SLC President Safia Khan had a chat with the Courier.
Vandy Manyeh: What is the SLC all about?
Safia Khan: The SLC plays a leading role in students' involvement and civic engagement on campus. We try getting students involved cross-culturally, through service events and through clubs on campus.
VM: There has been a plan to open a multicultural center on campus. Do you have any update on that plan?
SK: We proposed that to the shared governance council and we got a "yes." So it is actually moving forward.
VM: Let's talk about the SLC's upcoming elections. What positions are up for grabs?
SK: In the first round, we are going to be filling president, vice president and student trustee. The student trustee plays a very special role. Not only are they are part of the SLC, but they do sit on the board of trustees. When we have elected the new leaders, the SLC will then fill the civic engagement officer, outreach officer, service officer and operations officer positions.
VM: There was a sharp increase in the number of students who voted in the SLC's elections last year. What are the plans to have more students to participate in the upcoming elections?
SK: We are going to be tabling at 'Popcorn Wednesday.' We will have flyers on the popcorn bags. Also, we are going to be tabling all around the campus with laptops for students to vote. We have a marketing plan in place, and flyers will be posted around campus.
VM: How involved is the SLC with the ongoing celebration of Black History Month?
SK: The diversity and inclusion office reached out to us and told us about events that are planned for this month. We are doing our best to not just attend the events. We advertised flyers on the SLC's window, and we tabled during the opening ceremony. It is just to have students to participate and partake in these events.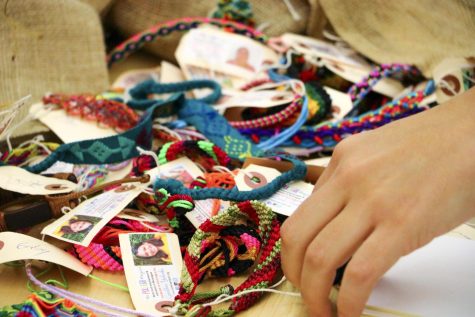 VM: The SLC is hosting the Pulsera Project once again. How is it going?
SK: The SLC takes huge pride in this. We do this every year. In the past couple of years, we raised up to $10,000 for artists that make pulseras or hand-woven bracelets. Nicaraguan artists send in pulseras that are handmade. We sell the bracelets, and all the proceeds go back to them. The money is used to fund their education, and to support a livable lifestyle in Nicaragua.