Duel in the desert: Pacquiao and Mayweather to fight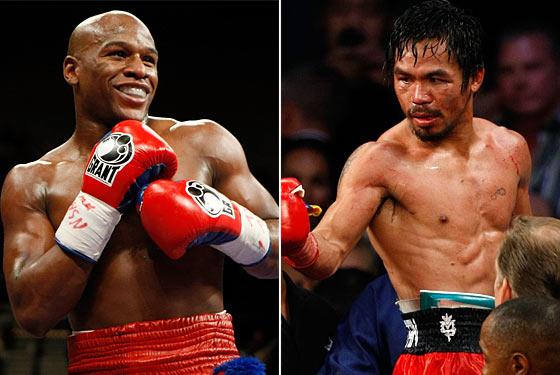 This question has been asked by boxing fans and enthusiasts for years now. It will now be answered May 2 where the two will fight at the MGM Grand in Las Vegas, Nevada.
On Feb. 20, Floyd Mayweather updated social media with a picture of the signed contract for the fight. Considering the skill level and the rivalry between the two highly-rated fighters makes this match truly a historic event. The two never made a serious effort to set up the fight in previous years of their careers, and with both of the fighters getting older, this seems to be their last chance to be able to do so.
Floyd Mayweather, currently the world's highest earning athlete is yet to be defeated in his professional career and holds 47 wins. Mayweather also holds ten world titles, and is a world-champion in five different professional divisions of boxing. Mayweather is a boxer that is known around the world for utilizing shoulder rolls in his fights. He is able to dodge opponents' blows with ease, and is able to strike when an opportunity arises. By mastering shoulder rolls, Mayweather is able to frustrate even the best fighters in the world, so much so, that they begin tire out, giving him the chance to land devastating blows.
Manny Pacquiao, the world's first and only eight-division world champion holds a record of 57 wins and five losses. Fighting with a southpaw stance, Pacquiao is known for his punching power despite being around 144 pounds, an advantage over Mayweather that shouldn't be overlooked. However, an advantage that Floyd Mayweather has over Manny is that his defense will prohibit Pacquiao from landing many of these powerful punches during the fight. Mayweather's shoulder rolls help him maintain a feeling of control during his fights, allowing him to not expend a great deal of energy and to simply roll away from punches. Pacquiao's southpaw style may have trouble breaking through Mayweather's defense, along with Mayweather's classic style of feeling when in trouble. If Pacquiao's punches do make it through, they will do a great deal of damage to Mayweather. This fight is a classic example of speed and reflexes versus precision and power.
The fight will be available on Pay-Per-View at a record high of $89.95, and even more if viewers wish to see the fight in High-Definition. This fight is expected to set a record-high of earnings for the fighters, and the price of the Pay-Per-View reflects that.