Pieces for Peace
Art professor showcases artwork with a touch of advocacy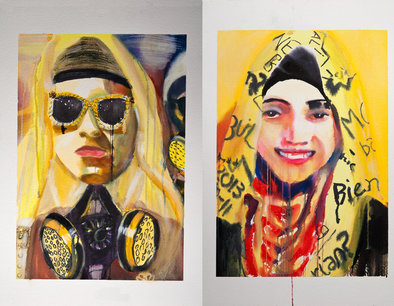 Kelly Wynne, Features Editor
September 10, 2014
Reading Time:
2
minutes
College of DuPage art professor Jennifer Hereth has spent her life making artwork that speaks to people and has inspired her students to do the same. Hereth has found inspiration in tragedies and conflicts like Sandy Hook and the Arab Spring. She creates pieces to show rebellion and protest, hoping to spark an idea or feeling in her viewers.
"I'm always looking for a way for my art to be something that turns people on to the hard subjects of life," said Hereth. "I was moved by the risks of 'Arab Springs,' and so I use my own art to take risks and push the audience to think about these things."
Hereth was asked to be featured in her own exhibition at The University of Chicago Catholic Theological Union in which she included works from a group of her students as well. The exhibit titled "Peace, I Miss You" and "Imagine New Orleans" shows two sides of the professor's influence.
14 of Hereth's own pieces, making up the "Peace, I Miss You" portion of the exhibit, are inspired by worldwide conflicts and the fight for peace. With this work, she hoped to give her viewers an inspiration to think outside of social and cultural norms.
While teaching in China, she got the reaction that she had hoped for.
"It renewed my faith that we do work that is heartfelt and to show them protest in art was so powerful."
Hereth is not only motivated by tragedies. She also focuses her work on giving back. Hereth, along with former student Karen Gehse, support an art group called IArtists as they create pieces inspired by New Orleans. These pieces are donated to victims rebuilding from Hurricane Katrina.
Hereth believes in charity work and wants to help her students to be motivated by something other than their own design.
"Most artists want to be useful but sometimes it's hard to imagine how you can make your artwork powerful," Hereth said. "Although it's been nine years since Katrina I'm proud of our dedication and how we show them that although it isn't a hot topic anymore, we haven't forgotten about them."
Along with her own paintings, 14 pieces of Hereth's IArtists will be featured in the show.
The exhibition, open weekdays from 9 am to 4:30 pm begins on Sept. 12 and runs through Oct. 22.