COD Cares helps students bring cheer
Opportunities to help give back this holiday season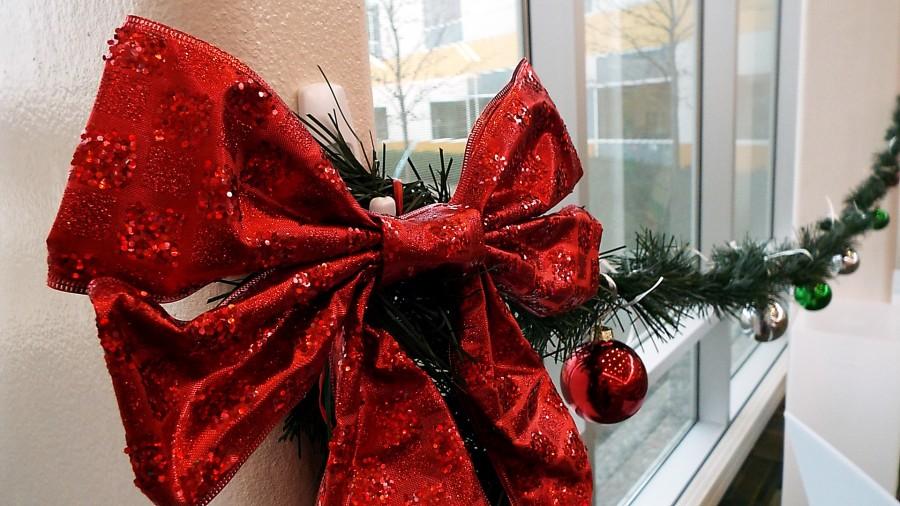 Kelly Wynne, Features Editor
December 3, 2014
Reading Time:
3
minutes
The season of giving is here, and one way that is sure to brighten your holidays is giving back. The stress of buying last minute gifts for your family and friends may be overwhelming, but doing something to help others may be the perfect way to bring you cheer, as well as benefit the recipients. Whether it's leaving your mailman a small gift or shoveling your neighbors driveway free of charge, acts of kindness can make your holiday season feel worthwhile. This year, COD Cares, College of DuPage's charity arm, has brought countless opportunities to campus. You don't have to look far to find an organization to volunteer at or simply sign up to bring gifts to school. For a full list of opportunities visit www.cod.edu/about/cod_cares/good_causes/aspx.
Giving Garland Project:
If you have walked through the SSC atrium in the past few weeks, you have probably seen garlands hanging along the windows. By taking a tag from the garland, you promise to buy a gift of at least $25 for a teenager or elder who may not receive a present otherwise. The packages purchased by students will benefit teens and seniors from Metropolitan Family Services, as well as the Humanitarian Service Project. These gifts must be brought to the community relations office in BIC 1645 by Wednesday Dec. 17. If you would like to join in on the whole celebration hosted by COD Cares, the "Giving Garland Holiday Event" will take place on Thursday Dec. 18. Bring your donations, and stay to watch "Elf" while eating holiday cookies. Ugly holiday attire is encouraged; there will be a prize for the first 30 people to arrive in tacky sweaters and other creative outfits.
For a full list of suggested donations, visit www.cod.edu/about/cod_cares/good_causes.aspx. Once you have received a tag, email [email protected] with the family number and child's name.
Volunteer Opportunities:
COD Cares has partnered with many organizations for this holiday season, as they do year round. No matter what your personal hobbies are, you can find something on the list that will interest you.
If you are athletic:
Jingle Bell 5K: On Dec. 6, the 5K organizers are is looking for volunteers to run, walk or help with the event. All proceeds of the run will be donated to the Arthritis Foundation.
The 5K is taking place in cities all across the country and so far has raised more than $5.1 million. Runners and walkers are encouraged to dress in holiday costumes, and jingle bells to their shoelaces. To join the Wheaton branch of the fundraiser, visit www.arthritis.org/get-involved/jingle-bell-run.
If you like to bake:
Holiday Cookie Bakers: Advocate Hospice is looking for bakers to donate cookies throughout the month of December. Bakers can make whatever their heart desires and drop off their festively wrapped cookies between 8:30 a.m and 5 p.m from Dec. 8 to 24 at their Downers Grove location. Cookies should be baked in quantities two or three dozen and will benefit Advocate Hospice's terminally ill patients, as well as their families.
To go directly to the volunteer page, visit http://www.volunteermatch.org/search/opp779040.jsp.
If you like to help those less fortunate:
DuPage Pads and Midwest Shelter for Homeless Veterans:
Both DuPage PADS and Midwest Shelter for Homeless Veterans help to shelter those without a home of their own. This is especially important in the winter, due to Chicago's ever changing temperatures. DuPage PADS travels from location to location, but is always looking for volunteers to help set up beds, serve meals, or help clean after visitors leave. Midwest Shelter for Homeless Veterans in Wheaton provides housing options and services available to U.S. veterans of any era. They are looking for volunteers to help serve meals, as well as perform other tasks like painting and landscaping. Jobs may vary by season.
To find opportunities at DuPage PADS, visit dupagepads.org/solutions/volunteer/. To find opportunities at Midwest Shelter for Homeless Veterans, visit www.helpaveteran.org/volunteer.htm.

For a full list of volunteer opportunities this season, visit http://www.cod.edu/about/cod_cares/good_causes.aspx.