100 Happy Days
Happiness campaign may brighten your outlook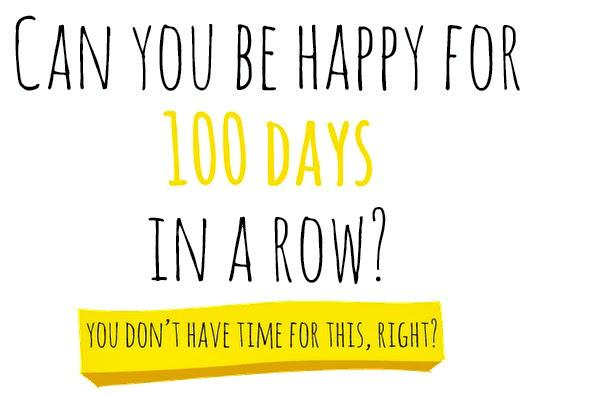 Kelly Wynne, Features Editor
December 3, 2014
Reading Time:
2
minutes
College is a stressful time for students of all academic levels. Lack of sleep and little time for non-academic endeavors are common side effects, leading to irritable personalities and habitual lifestyles. The common myth that students can find happiness only in academic success and social status can be broken, and a new resource is being promoted to assist people of all ages in finding joy.
A happiness campaign has been globally launched hoping to brighten the lives of people around the world. The 100 Days of Happiness Foundation encourages people of all ages to join and share one picture per day of something that makes them happy. This could be as simple as a picture from the first snow of the season or that Starbucks drink you almost posted on Instagram.
The foundation keeps track of pictures posted by participants on social media platforms by using the hashtag, #100happydays. Those with a more creative idea, or who want to keep their pictures further out of the public eye, have the option to come up with a hashtag of their own as long as they mention it when registering. If a participant wishes to keep pictures private, email submissions are also accepted. At the "finish line," those who complete all 100 days will be rewarded with a book of their happy pictures.
Approximately one million people worldwide have already achieved the goal. This may sound like a crazy amount of happy people, but 71 percent of those who signed up for the challenge have failed to complete it. Most blamed it on lack of time.
As college students, we all face a handful of dreadful days. Not to remind you that finals are approaching, but it's almost time to brace yourself and buckle down for the end of the semester haul. You may have little time for adventures outside of the library study room, but can you name a better time to start appreciating the little things in life? Snap a picture of your finals survival kit, or the sunset outside your window as you sit down for a long night with your physics book. It may be the perfect opportunity to find joy in otherwise mundane weeks of studious behavior.
Those who have completed the challenge testify to life-altering results and an overall joyful outlook on life. The benefits are endless, so what do you have to lose? Maybe you'll even find that you had a hidden knack for photography this whole time. I challenge you, College of DuPage students, to take the challenge with me. The 100 Days of Happiness challenge may be the perfect way to take a load of stress off of your life and help you appreciate small details in the midst of the imminent winter.
Take control of your own happiness and register for the challenge today at www.100happydays.com.