On The Serena Williams Controversy- It's Not Arrogance If You Can Back It Up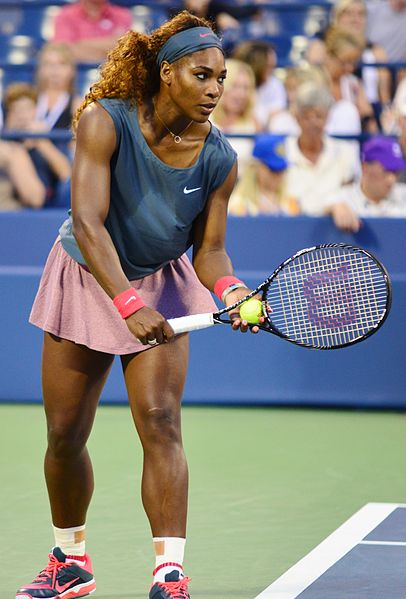 Kimberly Wilson, Opinion Editor
September 18, 2018
Hang on for a minute...we're trying to find some more stories you might like.
Reading Time:
3
minutes
The 2018 US Open women's singles final brought with it the biggest tennis controversy in years. Many believe runner-up Serena Williams overreacted to the umpire's calls against her. However, the "she lost it" narrative permeating the internet is a classic example of punishing women—black women especially—for taking a stand.   
The umpire penalized Williams three times in her loss to Japan's Naomi Osaka, who won her first Grand Slam at 20 year old. The second call, a penalty for being coached, lost her a point. Williams already had one warning for racquet abuse, the first call.  
When she argued call No. 2, demanding an apology, the umpire issued a third penalty for what he called "verbal abuse." She never swore once. This left her a break down in the second set of the match, which is a serious disadvantage in tennis. She'd already lost the first set.
Some say Williams' impassioned reaction was uncalled for. But as many have since pointed out, male athletes, both in tennis and other sports, have had similar reactions to perceived bad calls on multiple occasions. These men never faced scrutiny to the extent Williams has.
Retired American players James Blake and Andy Roddick have since admitted to saying "much worse" to umpires without being penalized. Tennis great John McEnroe was often celebrated for his "fiery personality" on court. One of his tirades even led to his infamous "you can't be serious" outburst that resulted in a lucrative advertising campaign for Nike.   
The coaching violation penalty–the call that started it all–was questionable to begin with. Players receiving pointers from their coach during a match is common in professional tennis, even though it is technically against the rules. The violation is usually met by umpires with a soft warning, which generally puts an end to the issue.
Knowing this, the double-standard at play in this situation must not be ignored. Regardless of how one feels about what Serena and her coach did or didn't do, tennis players are more or less getting away with being coached on a regular basis. Male athletes are more or less getting away with arguing a bad call on a regular basis.
Williams being so severely punished for doing the same is simply unfair. Instead of attempting to diffuse the situation, Ramos made a call that rendered it virtually impossible for Williams to get back into the match.
But much of the public's response has tried to shift the conversation away from the umpire's unbalanced call. This is a deliberate attempt to paint Williams in a negative light and reinforce sexist and racist stereotypes against black women.  
The umpire's actions and the public's invalidation of Williams' reaction is a paradigm of misogynoir. A type of bias unique to black women, it involves them being discriminated against based on gender and race.
Black women in this country have been ceaselessly discouraged from defending themselves in the face of mistreatment. When treated unjustly, expressing any form of indignation often results in them being labeled as irrationally "angry."
Many black women internalize this insidious stereotype and refrain from speaking up for themselves. This allows for the seamless continuation of their ill-treatment. This culture makes it easy for black women to think their feelings are not worth expressing. But Serena's refusal to be silenced is an example black women would do well to follow.
In the book "Why I'm No Longer Talking To White People About Race," author Reni Eddo-Lodge discusses the struggles she has faced when daring to speak up about inequities faced by black women.
"I used to be scared of being perceived as an angry black woman," she wrote. "But I soon realized that any number of authentic emotions I displayed could and would be interpreted as anger. My assertiveness, passion and excitement could all be wielded against me."
Williams' reaction was completely natural.
Cheating accusations plagued Williams and her sister, Venus, for years. Both were falsely accused of fixing matches between them. Williams has endured a perpetual onslaught of baseless doping accusations from fans and the media. It's not difficult to understand why she reacted the way she did to being called a cheater.
Yet countless articles continue to inundate the web charging Williams went too far. Her emotions are questioned and invalidated as comment after comment insist she had no right to them.
How dare she behave like that? People seeth. Who does she think she is?
Serena Williams is, without question, the best female tennis player to ever walk onto the court. She knows her tireless work has earned her respect. And she's not afraid to demand it. Her actions have given us a powerful lesson—know your worth and act accordingly.