Student Leadership Council election winners talk about the future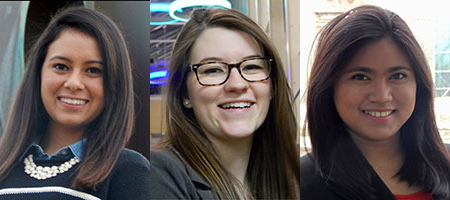 Lucas Koprowski, News Editor
April 6, 2016
Reading Time:
3
minutes
A total of 525 votes were casted in the College of DuPage Student Leadership Council (SLC) elections to choose student body president, vice president and student trustee.  The winners were Luzelena Escamilla for student trustee, Kiley Pooler for president and Shara Refugio for vice president.
Although roughly 2 percent of the student population voted in this election cycle, this year was an upturn in participation. This was the highest voter turnout since 2013. Only 338 students voted in 2015, and 461 voted in 2014.
This year also marked the highest candidate turnout in recent history. There were 10 candidates total. Two ran for student trustee, and four ran for both president and vice president.
Pooler is grateful for all the support to her campaign. She received 225 out of the 525 casted votes. She beat runner up Jorge Herrera to become president by 84 votes.
"I hope I make them proud," said Pooler. "I am a little nervous as anyone would be for such a big position. I know it will take some time to get used to the position, but I am currently working on expediting that process and want to learn as much as I can before my term starts."
Pooler plans to use her position to provide more outreach to the COD community and students. She also wants to be a resource for clubs and organizations to help them obtain their goals.  
"As president I really want to work on SLC's outreach to the community and students," said Pooler. "I hope to have a majority of the students recognize what SLC is and what it can do for them. With that in mind, I really want to work on being involved with more clubs and making sure I visit classes throughout the semester.
"I would love to be a resource for the clubs and help them achieve their goals," said Pooler. "I'd like to see SLC do more volunteering and help PTK (Phi Theta Kappa) with their food pantry. I have a lot of ideas for SLC to collaborate with other groups on campus that I hope are feasible. I want the students to be able to come to me and know that I will help them with whatever I can, however I can."
Escamilla has also been grateful for the support for her trustee campaign. She received 335 of the 525 votes, beating runner up Cody Castle by 155 votes. She believes her plans for the position will improve upon past student trustees.
"Next year I want to implement more student presentations to the board to show them the amazing things that students are doing on campus," said Escamilla. "I also hope to increase the student involvement and knowledge about the board and their meetings. My biggest goal as student trustee is to find more scholarship opportunities and demonstrate to students all the opportunities that College of DuPage has to offer."
Refugio wants to use her position as vice president to provide a comforting environment for students to air their concerns about the college. She won the vice presidential race with 226 of the 525 votes, beating runner up Ugné Narbutaité by 119 votes.
"I plan to continue providing a welcoming environment where students feel comfortable expressing their issues and taking steps to address their concerns," said Refugio. "I just want to thank everyone who helped me campaign, all the students who supported me, as well as all members of the faculty who gave a portion of their class time for me to campaign and talk about elections. I feel very grateful for all the support that I got."
The Escamilla will begin her position on April 15, but will make the transition at the April 21 board of trustees meeting. Pooler and Refugio will officially start with the summer semester.