SLC Candidate Forum opens candidates to the public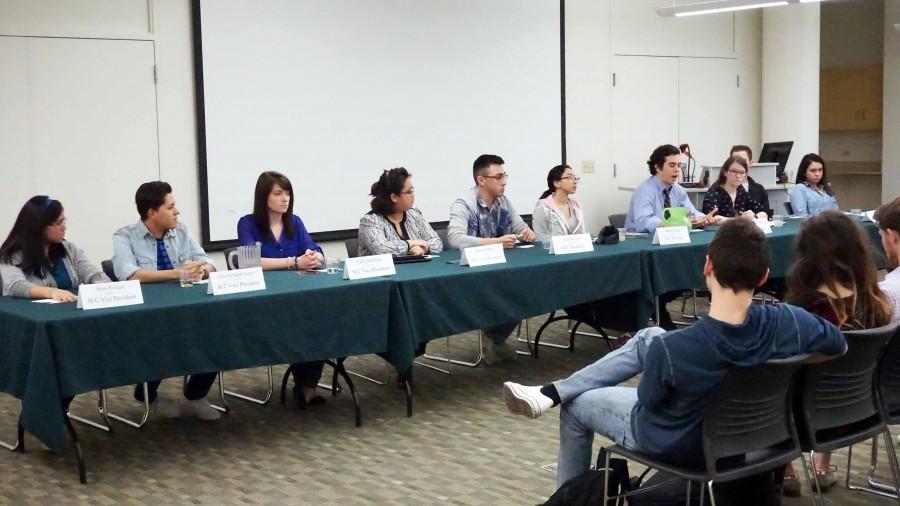 Lucas Koprowski, News Editor
March 15, 2016
Reading Time:
3
minutes
The Student Leadership Council (SLC) Candidate Forum provided an environment for any student looking to learn about candidates for the elections on March 15 and 16. The positions of student trustee, president and vice president of the council are up for election.
Current President of SLC Joe Stahl thought the event was successful and everyone provided thoughtful answers to the questions.
"I think it was really great," said current President Joe Stahl. "I'm glad that the amount of people came that they did. I think the questions were amazing, and everyone expressed what they want to do and how they feel their position would be like if they take office.  I think it was a great opportunity for the candidates to express their opinions. Pretty much everyone had great ideas, so I'm glad we had such a fine group of people running for elections."
Throughout the event, there were major talking points that many of the candidates used to explain what they will do in office.
Student Trustees Candidates
Luzelena Escamilla and Cody Castle had differing ideas about how they would influence the college with the position in their opening statements.
Escamilla said it is very important to have an understanding of what's happening around campus, and how she could implement new ideas with the position.
Castle spoke about his experience on campus as a third year student going into his fourth. He then talked about how this is a turning point for the college and that there is a positive perspective looking forward for COD.
When asked how they plan to deal with the polarized board, Escamilla talked about moving past the idea of being a polarized board and said the board should think more about the students.
Castle talked about how respect towards each other on the board will lead the polarization to become less separated. "Simply because you disagree with them, it doesn't mean you can be disrespectful," said Castle. "Every word and action has power. The board hasn't been respectful to itself."
Presidential Candidates
Presidential hopefuls also talked about a wide variety of topics in their opening statements.
Kylie Pooler talked about how she wants to create more outreach for students and educate them on the resources the school provides, such as scholarships.  
Michael Strange talked about his attendance at most board meetings and his former work with his high school government and community service.
Martha Virgen explained her involvement with the Latino Ethnic Awareness Association and how she feels that if she becomes president, it will help her better understand the diversity of the student populous.
Jorge Herrera wants to bring the community together and bring more family and culture to COD. Both Herrera and Virgen talked about making clubs more interconnected.
When the presidential candidates were asked what they will bring to the table, Pooler talked about how being an assistant to the Living Leadership Program and working at Student Life has given her a lot of leadership experience and allowed her to communicate with students on a daily basis.
Strange said he was an open book and said he would lead the school with positivity. He also explained that he knows how to compromise and knows when to give and take when making a deal.
Virgen talked about her past in athletics in high school, with seven years in cross-country and track and field, and how that has led her to become more outgoing.
Herrera used his high school graduating class voting him as "most likely become president" to lead into talking about his experience in marketing and the importance of compromising.
Vice President
Most of the vice presidential statements had more or less had the same message. Ugne Narbutaite, who talked about being a constant support for college students and Shara Refugio wanted to use their position to talk to administration. The other candidates talked about how they would use their experience to make COD more of a community.  
After those answers, the vice presidential candidates were asked how they define leadership. Denise Calma defined it as a willingness to connect and support people.
Narbutaite, Refugio and Luis Fernando Lopez talked about being a role model, and about helping students achieve goals and helping them become more successful.
To learn more about all of the candidates, and view our endorsements on our opinion section at codcourier.org.