Lady Chaps basketball upset by Carl Sandburg Chargers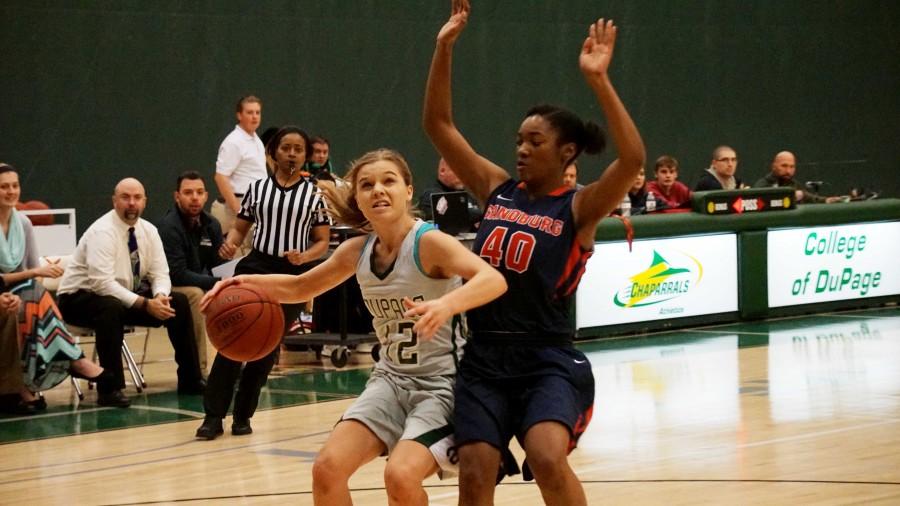 Lucas Koprowski, Sports Editor
December 1, 2015
Reading Time:
2
minutes
After a crippling start for the Chaparral women's basketball team in their matchup against the Carl Sandburg College Chargers on Nov. 28, they were shut down at home, 58-69.
On top of their sluggish start, they had many tactical errors throughout the game. For instance, their free throw percentage was far below their standard, only scoring 20 of their 43 free throws. As well, they couldn't keep the Chargers long range shooters at bay, allowing them to take 23 shots. Chaparral Head Coach Ryan Connell thought that it was a tough game, and there is a lot that the team has to work towards in the future.
"Our goal early on was to limit their three-point shots, and Carl Sandburg came in shooting a lot of threes," said Connell. "Our goal was to keep them under the 15 range of shooting three's, but they still were able to get off shooting 23 three-pointers. Although they were 9 for 23, we need to be better. We also need to be better on our free throws. We finished the game being 20 for 43 in free throws. That's not where we want to be."
Although every player on the reserves played in this game, only the starting players delivered, with 49 of the Chaps 58 points collectively made by the starters. On top of depending on their starters, they were also shut down from long range most of the game, only making two of their six attempts. Even further, they had trouble converting on their turnovers by only scoring 15 points on 20 turnovers.
This puts the lady Chaps at a three-game losing streak, previously falling short to Moraine Valley Community College, 59-71, and Prairie State College, 41-49. Despite their tough luck these past three games, they were steamrolling the competition in the beginning of their season, with a four-game winning streak.
In spite of their loss, freshman guard Elinor Cycenas believes the team battled hard near the end and can learn from this performance. "I think we started off slow, but after halftime we put in more effort," said Cycenas. "I think if we do that every game we will be pretty good if we have that performance."
Although last year's team was 5-2 at the point where this year's team is currently at 4-3, last year's team ended their season 7-22. The instability of the roster last year forced the team to end their season with an eight-game losing streak. As long as this year's squad is able to stay together, it is unfathomable that they could do worse.
Looking forward, the team faces Black Hawk College at the College of DuPage on Saturday, Dec. 5.