Chaparral men's basketball defeats Carl Sandburg in a close game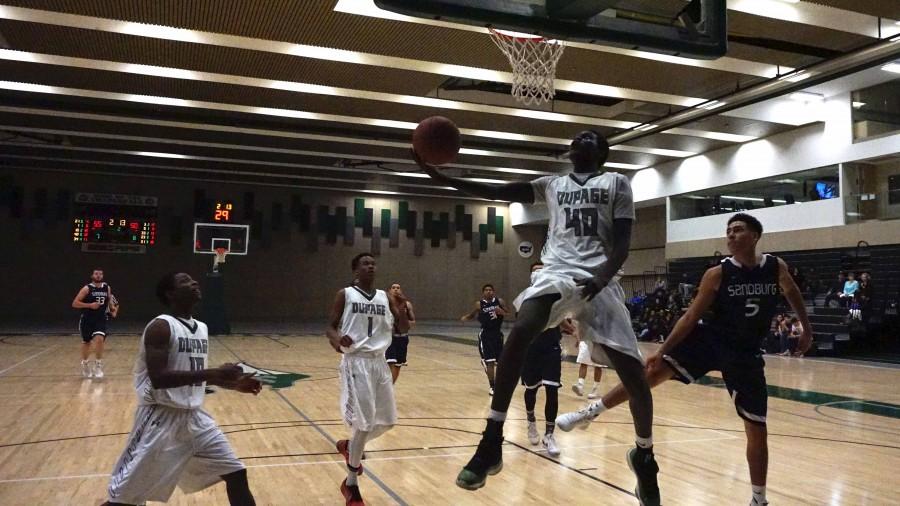 Lucas Koprowski, Sports Editor
December 1, 2015
Reading Time:
2
minutes
Coming into the game with fire in their eyes, the Chaparral men's basketball team defeated the Carl Sandburg College Chargers on Saturday, Nov. 28, 64-59.
Although their defense was pushed farther in this game than any other this season, Head Coach Earl Reed thought this young team came to play against the Chargers.
"I thought we matched up pretty well against Carl Sandburg. We knew they were tough, and we knew they were going to penetrate," said Reed. "I'm really pleased with how we defended. Our goal as the whole team is to defend to 60 [points] or less, and we did that. Their switching defense created some problems for us, but our guys were able to work it out."
This mostly freshman team has come out strong this year, with only four out of the 16 players returning as sophomores, and there were bound to be some gelling issues. Although the team did lose their first game this season against McHenry County College, the team has had success with a 6-3 record.
Within those nine games, they have faced one NJCAA Division I team and eight Division II teams.  The College of DuPage's men's basketball squad is a Division III team. Last year, the team established that they could beat understandably superior competition. So far this season, the Chaparrals have proved that they are still on top of their game, even with a less-experienced team.
There are still spots where the Chaparrals have to improve, most notably in their defense. The chargers were able to switch their offensive play style to push past the COD defense throughout the game. Returning sophomore guard Anthony Taylor believes that is where the team needs to focus their attention towards in practice.
While talking about the game, Taylor said, "I think we could definitely play better. We mostly just need to work on execution and stopping penetration. A lot of the teams in our conference are going to be guard-heavy teams, and this one was definitely like that."
The Chaparrals will continue their season this upcoming Saturday, Dec. 5, when they battle Black Hawk College at home in the COD Physical Education Center.